Beer Brewing Equipment
Whether a first-time brewer or a seasoned pro, you ll need the right equipment to brew great beer This guide will help you choose the best beer brewing equipment for your needs
Product description
Description
Most brewery installations in restaurants, bars, and hotels use microbreweries. Ace microbreweries are installed at the customer's company turn-key solution. Ace has reached cooperation with many breweries around the world. We can design and manufacture professional containers and systems for breweries, cellar equipment, and other complex breweries. Ace has decades of experience in beer brewing, manufacturing sanitary stainless steel systems, and integrated automation and control systems.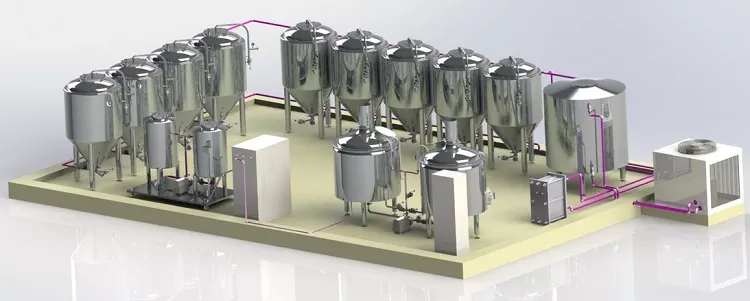 Beer brewing equipment includes six different systems:
Brewhouse System
Brewhouse system consists of Mash Tun, Lauter Tun, Boiling Kettle, Whirlpool kettle, Hop Dosing Equipment; the leading equipment adopted international quality standards of sanitary 304 stainless steel, to deal with the tank by plasma cutting, our Ar-shielding welding, mechanized automatic polishing machine.
Fermenting System
The fermentation system comprises a fermentation tank, and bright beer tank quantities are based on the customer's request. According to different fermenting requests, the structure of the fermentation tank is designed accordingly. Generally, the fermentation tank structure is dished head and cone bottom, with polyurethane installation and dimple cooling jackets. The tank cone section has a cooling jacket; the columnar part has two or three cooling jackets. This not only can meet the relevant requirements of cooling. Guarantee cooling rate of the fermentation tank also helps with precipitation and storage of the yeast.
Cooling System
The cooling system includes a Chilled Water Tank, refrigerating machine, and other line valves equipment; the beer refrigeration system is mainly used for cooling the saccharifying wort and fermentation; it plays a vital role in the whole process of brewing beer; our factory refrigerating machine is home famous brand eight stable performance, excellent refrigerating effect, low accident rate. optimum allocation of the refrigerating system can significantly reduce the wastage of energy and ensure the regular operation of the beer brewed
CIP System
CIP cleaning systems include lye tanks, Hydrogen Peroxide tanks, and line valves; if the tank volume is small, the tank can be fixed on trolleys, so it is easy to clean the brewing system. Alkaline cleaning can remove the fat and protein by saponification to improve product safety. After the CIP treatment, clean, bright surface, no water, no savor, no dirt. And the device is easy to operate, robust security.
Control System
The PLC controlling system includes Siemens programmable controllers, industrial personal computers, and other auto-controlled components; the heating and cooling are fully automatic and can also be hand controlled on the operation platform. The technological parameter can be programmed and set automatically or manually according to the customers or the technical requirements for different production objectives.
Auxiliary Equipment
An Auxiliary system can serve as the optional equipment for your brewery according to your requirements. The auxiliaries we can supply are the malt crushing system, yeast propagation system, filtration system, packing system, etc.
Product Advantages
1. We can customize the equipment design per customer brewing method, and brewing beer types can make beer highest to 33 Plato.
2. All Construction uses high-quality SUS 304 food-grade stainless steel; all pipes are SUS304, with perfect 3mm inner and 2mm outer shells.
3. All tanks have specially designed jackets to ensure heating and cooling efficiency. Both cone top and shell bottom have jackets, and exchanging areas are big enough.
4. The headspace of our tanks is much bigger; the total volume does not include the cover headspace.
5. 100% TIG welding process to weld the tank, jackets welding are all full welding by water, uniform dimpled cooling jacket to ensure no leaking and long life, welds passivated!
6. Our polishing is overall mirror polishing, polishing six times to make Ra 0.4um mirror finish, can clean 360° without dead ends.
7. Jacket testing 12 hours with air and water, jacket testing pressure is 5Bar, internal shell testing pressure is 4Bar, and before packing, we will also have 48hours of water testing.
8. Strict quality control and process inspection & testing system, which all the testing records will show on our data late with the tanks shipping, with checking the list and serial numbers to track.
9. We insist on a high-end product line to manufacture our tanks, all components like chiller, exchanger, steam boiler, and Schneider/ABB electronics control systems adopt international brands to ensure quality and
convenient after-sales.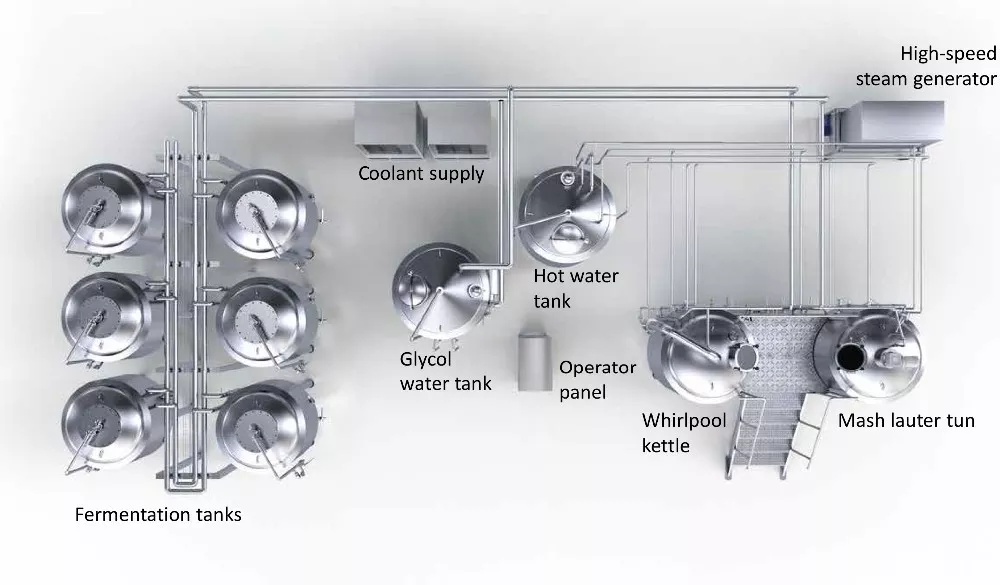 Stainless steel 304 craft beer brewery plant beer brewing equipment system

Product Parameters
Send Inquiry Our expert salesman will get back to you within 24hours!!!