commercial stainless steel beer brewing tanks
Brewing tanks are an umbrella term for a variety of vessels used in commercial beer production, ranging from small 50-gallon kettles to massive 300-barrel fermenters
Product description
Description
Brewing tanks are an umbrella term for a variety of vessels used in commercial beer production, ranging from small 50-gallon kettles to massive 300-barrel fermenters. The size and scale of your operation will determine the type of brewing tank you require.
The fermentation tank is a container for microorganisms to carry out the fermentation process and a place for microorganisms to conduct life activities and metabolism. Ace produced various sizes and specifications of fermentation tanks to accommodate the use of different breweries. Customers can select the most appropriate fermentation tank based on their requirements.
There are many different types of fermenters because so many different kinds of beverages need to be fermented. Ace has a lot of experience producing fermentation vessels for beer, wine, cider, and kombucha. Please let us know if you require other fermenters, and our engineers will design fermenters to meet your specifications.
Product Benefits

1. The fermentation tank has lifting ears, making it easy to hoist equipment.

2. It is convenient and flexible to deliver beer with a rotating elbow and racking team.

3. To ensure more precise machining accuracy, an oval guard plate is added at the junction of the outriggers, the lower cone refrigerant inlet pipe, and the lower cone outsourcing.

4. All tanks have adjusting bolts to ensure proper alignment and leveling.

5. The clamp is installed at the connection between the material port and the tank's bottom, and it can be rotated at will, making it easy for customers to use.

6. Bright tank bottom outsourcing is made of finished products to ensure that the tank body has a beautiful appearance, is strong and is durable.

7. Carbon stones for CO2 are installed in all bright tanks.

8. Makes use of a shadowless manway that is simple to clean. The top maintenance hole can be designed to suit the customer's fermentation process and beer brewing.

9. There are a lot of headspaces; the total volume does not include the importance of the top head.

10. The cooling jackets are designed on both the top and bottom of the cone, and the cooling area is adequate.

11. Includes a safety device and positive and negative pressure opening functions.

12. A cone angle of 60 degrees is ideal for yeast excretion.

13. The fermentation tank has a particular ladder for easy operation.

14. The working platform is designed to be watertight and non-slip.

15. Always use full glass manways in brewhouse manways.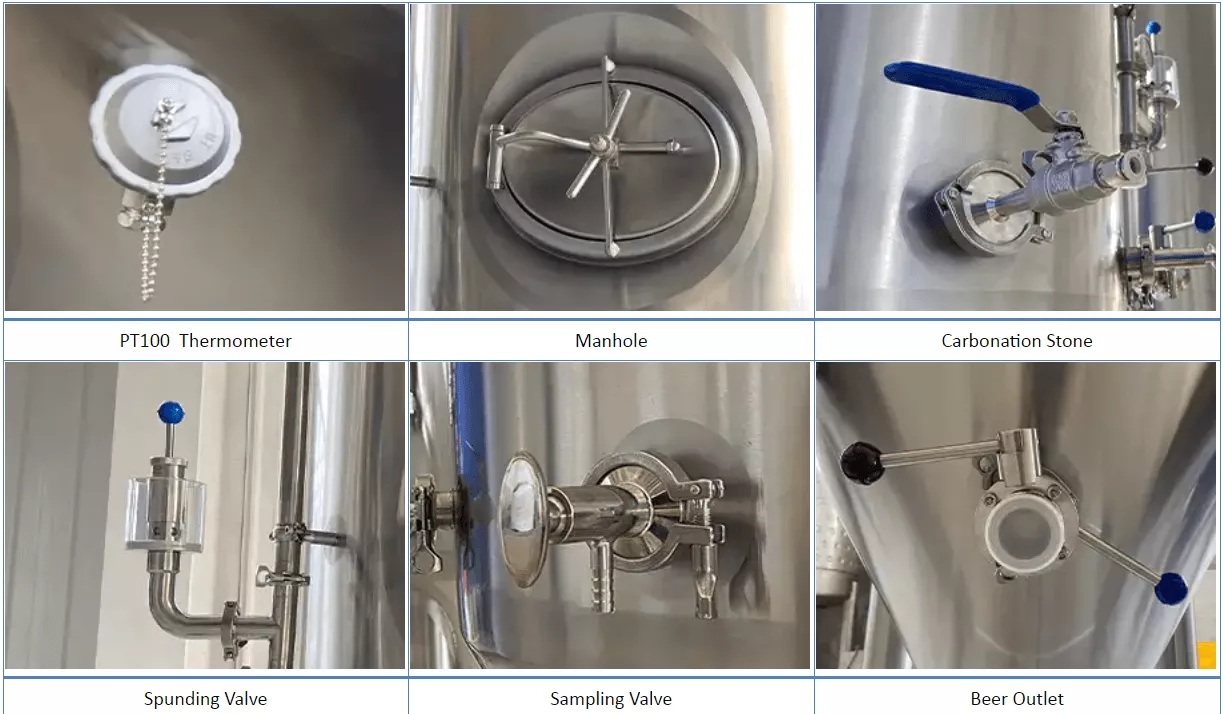 Product Parameters
Fermentation Tank Configuration
Send Inquiry Our expert salesman will get back to you within 24hours!!!