CIP System clean in place
Automatic CIP cleaning unit system clean in place food grade stainless steel CIP cleaning system,CIP trolley
Product description
Video
Description
The CIP cleaning device is widely applicable to food industry,especially applicable to dairy,fruit juice and beverage etc.industries.During the food processing,cleaning and sanitation are of great importance,and measures shall be taken to prevent any pollution to food.
Therefore,the CIP cleaning device is obviously indispensable.It can effectively control high organic wastes,microbes and bacteria etc. Furthermore,equipment,pipes and storage tanks that are compulsorily cleaned through CIP circul-ative cleaning fluid require no disassembly and reduce labor intensity.
The portable CIP cart is composed of a caustic tank with an electric heating element, an acidic tank, a sanitary pump, a control panel and a support frame with wheels.
The material of its main body is SUS304 stainless steel.
The tank volume in the CIP unit depends on the brewhouse capacity and we usually offer 100 litre and 200 litre per tank for this type.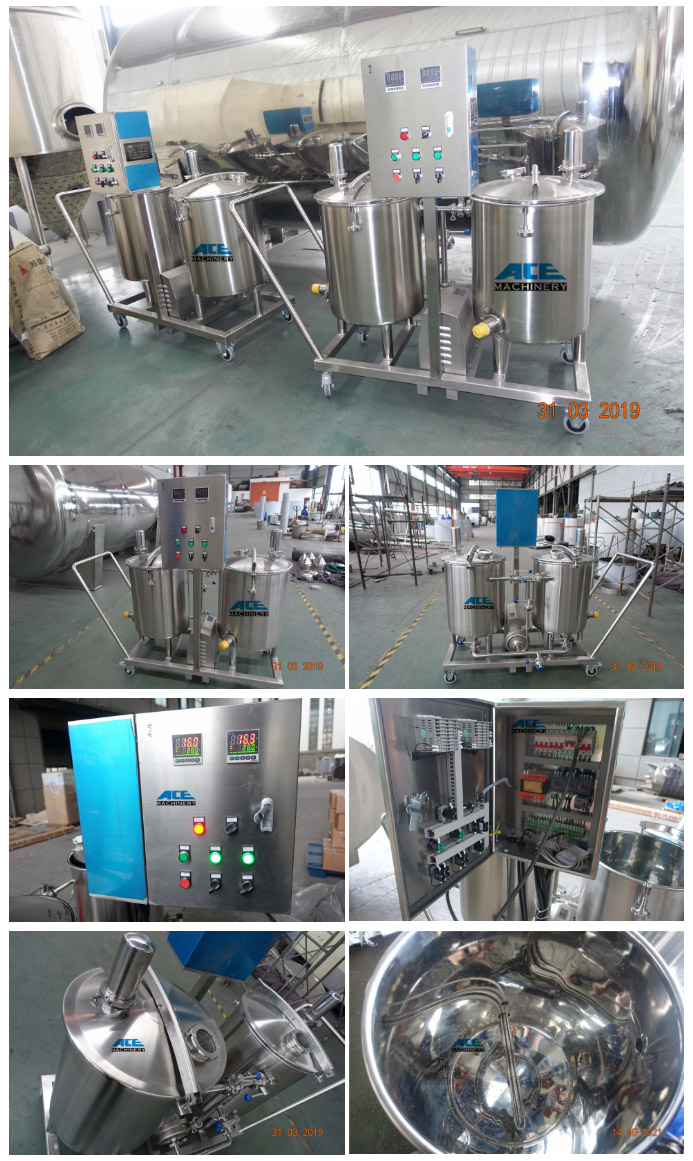 Processing order:
(1) The liquid level in tank must be adjusted before operation.
(2) Cycling detergent must be released according to the switching of the flow valve. Wrong operation in the control system stops the cycling of detergent, operation will automatically stop.
(3) Water temperature is adjusted by thermal regulator.
(4) Air purge system starts working, most detergent can be recycled.
Advantages:
1.It can make the production plan reasonable and improve the produce ability.
2.To compare with the hand-wash,it doesn't influence the cleaning result because of the worker's difference,on the contrary,it can improve the products' quality.
3.It can prevent the dangers of cleaning work,so that we can save the work force.
4.It can save the cleanser,the steam,the water and the cost of production.
5.It can extend the service life of the machine parts.
6.It includes three types,one is the handwork system,one is the semi-automation system,and the other is the whole-automation system,so it is easy for customer's selection
Send Inquiry Our expert salesman will get back to you within 24hours!!!