stainless steel conical fermenter
Conical fermenters are becoming increasingly popular in the brewing industry due to their many advantages over traditional cylindrical fermentors
Product description
Description
If you have been making beer for a while, you understand the value of buying a conical fermenter. The best conical fermenters are conical near the bottom with an additional valve. This valve makes it easy to handle the yeast. In addition, it allows you to eliminate the yeast and clean the fermenter before recycling it. Depending on the proposed use of the fermenter, we may choose to purchase a stainless steel conical fermenter. The following are essential factors to consider before buying a fermenter
1. Size
Consider the amount of beer you want to brew and purchase the correct size fermenter. If you plan to use it for commercial purposes, consider buying a sizeable conical fermenter, which brews a large batch of beer and saves time. If you are planning to make small beers, then you can choose a micro-mixed conical fermenter which is relatively affordable.
2. Temperature control
The temperature level control dramatically determines the quality of the beer produced. Therefore, by choosing a fermenter that can easily control its temperature, we can be assured of a delicious beer when the temperature is adjusted.
3. Accessory equipment
They are fully assembling the effective conical fermenter. Unassembled conical fermenters require us to purchase the missing parts, which will increase the cost.
4. Storage of brewed beer
Many brewers prefer to store their beer in different tanks. Why? It can age and carbonate slowly. The longer the beer is fermented, the sweeter it becomes. If you want a unit storage tank, you can store the beer in the same storage tank where the beer was fermented.
5. Price
The price of plastic conical fermenters differs from stainless steel conical fermenters in that they are made using different products. The cost of the fermenter is essential in determining which size, type, and highest quality. The quantity depends on the country of production of the fermenter as well as the price of shipping. It is important to note that homemade plastic fermenters are relatively economical compared to commercial fermenters due to the size factor.
6. Valves
If you want to taste the beer without opening the fermenter, this is where our valves come into play. A typical valve is a butterfly valve, which removes yeast and debris. Choose a plug that is easy to clean if you want to use a variety of yeasts. The most efficient conical fermenter is both beneficial and economical. Its ability to collect yeast can recover it, thus helping you to recoup your investment. These are just a few of the essential factors we offer. Contact me for more information on fermenters, and feel free to discuss!
Why are fermenters conical?
Our fermenters are known for their conical shape, a question we are always asked by people who are just starting to brew beer. Due to the body itself and the effect of gravity on it, conical fermenters have several advantages. One of the first things we explain to newbies is that putting their beer through a secondary fermentation is the golden ticket to a great-tasting beer. Secondary fermentation allows you to do what you can't do with primary fermentation. But transferring the beer to a separate tank can ruin everything. Conical fermenters are designed to eliminate the need for sharing. With a conical fermenter, you can do both primary and secondary fermentation in the same vessel. The conical shape of the tank encourages sediment and yeast to fall to the bottom. Both can be drained through a valve. This means no more siphoning until you start the secondary fermentation process. One of the side benefits here is the ability to reuse yeast that is still alive. Reusing yeast can be more difficult when you take the beer from the primary fermenter and manually transfer it to another tank.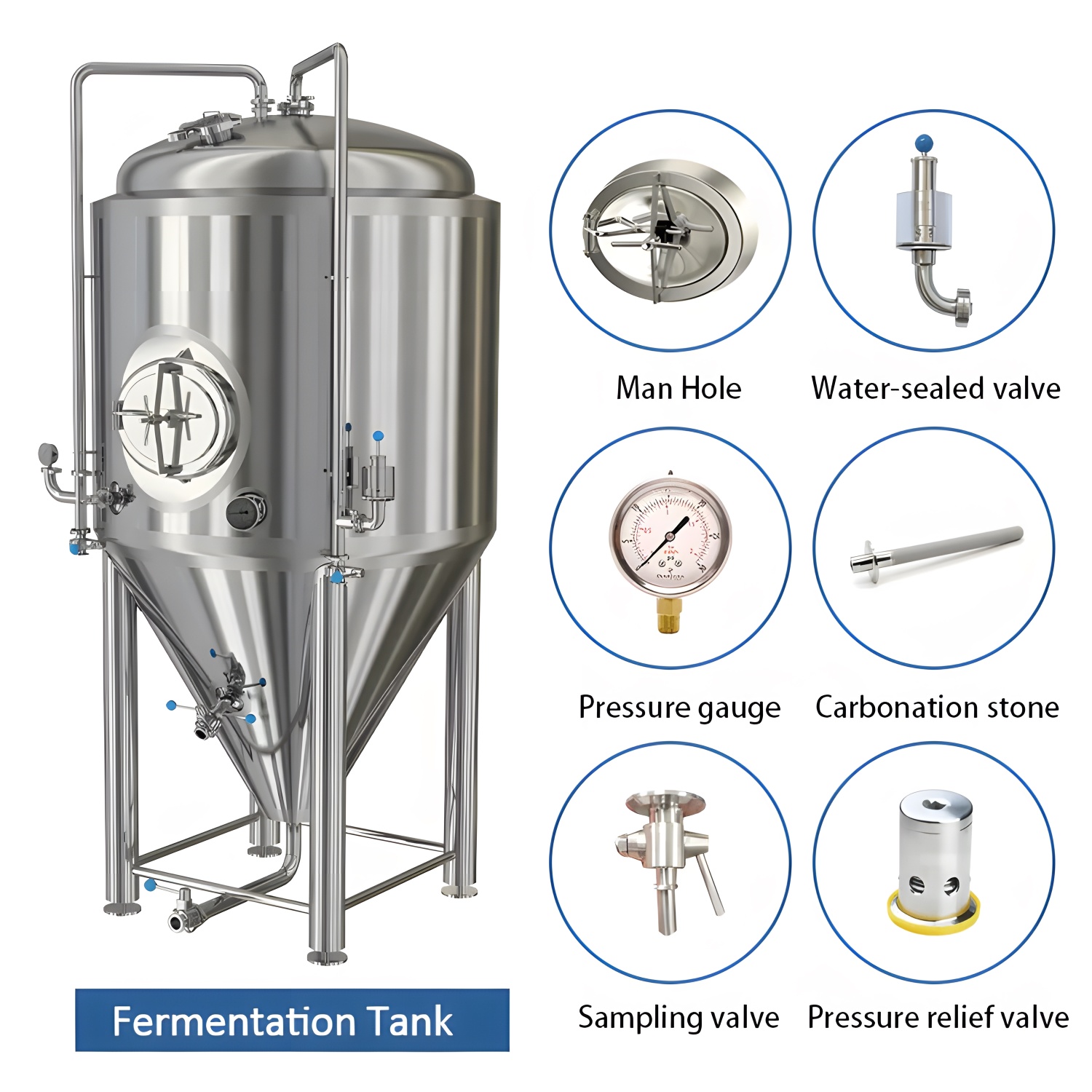 conical fermenter configuration:
Function

Beer Fermentation

Total capacity

Effective capacity +25% Headspace minimum

Interior Shell

SUS304 full welded; TH=3mm

Exterior Shell

SUS304 full welded; TH=2mm

Insulation

polyurethane,,

TH=80/100mm

Glycol Jacket

Dimpled plate on cone and side,TH=1.5mm

surface treatment

Surface brushed; Polish treatment

Control way

Individually temperature controlled by PLC or

DCS

Washing way

CIP spray ball, in the center of the inside tank

Bottom cone

60-90 degree

Manway

top manhole or side manhole

Temperature control ways

Platinum resistance thermometer and Direct reading thermometer,

display temperature from intelligent data meter

Temperature measurement system

Temperature sensor PT100, temperature

display by

intelligent data meter

Pressure control system

Automatic control

electric connected pressure gauge

Tank pressure

Design pressure 0.3MPa; Working pressure 0.2Mpa

Valves and fitting

Matched valves SUS304
1)Solenoid water valve;
2)Solenoid relief valve
3)Butterfly valves;(Bottom outlet Butterfly valve:DN40) (Racking Butterfly valve: DN32)
4)Sample valves;
5)Beer outlet valves;
6)Drain valves:
7) One detachable Ladder stair, SUS304

optional

Capacity:50-20,000L

Top hop additional port

CO2 stone
Fermenter advantage :
1. 304 stainless steel plate as a whole, and our stainless steel plate manufacturer is the best in China
2. The cooling efficiency of Maitreya plate jacket is greatly improved.
3. Two stage cooling mode
4. The insulation layer material is high-grade polyurethane with a thickness of 80mm
5. Polishing accuracy up to Ra0.4μ m
6. Strict tank pressure test
7. Energy conservation and pollution emissions
Send Inquiry Our expert salesman will get back to you within 24hours!!!