Frame and Plate Filter Press for Wine, beer milk & Beverage
Stainless Steel 304 316 Frame Filter Press Stainless Steel plate filter
Product description
Video
Description
As A Kind Of Precision Filtration Equipment, The Plate And Frame Filter Mainly Filters Liquid Materials Through Filter Media Such As Filter Paperboard, Paper And Film. It Adopts A Parallel Structure In Which Filter Materials Are Clamped Between A Plate And A Frame, And The Filter Plates And The Frame Are Arranged Alternately, And Each Filter Material Forms A Filter Unit With The Adjacent Plate Frame. The Ace Plate And Frame Filter Is Based On A Foreign Cardboard Filter, Which Has Been Carefully Manufactured Through The Absorption, Improvement, And Innovation Of Our Engineers, Making It The Current Basb Series Plate And Frame Filter. This Product Is Practical, Effective, Suitable For A Variety Of Filter Materials, Suitable For A Variety Of Liquid Materials With Different Precision And Level Of Filtration Processes.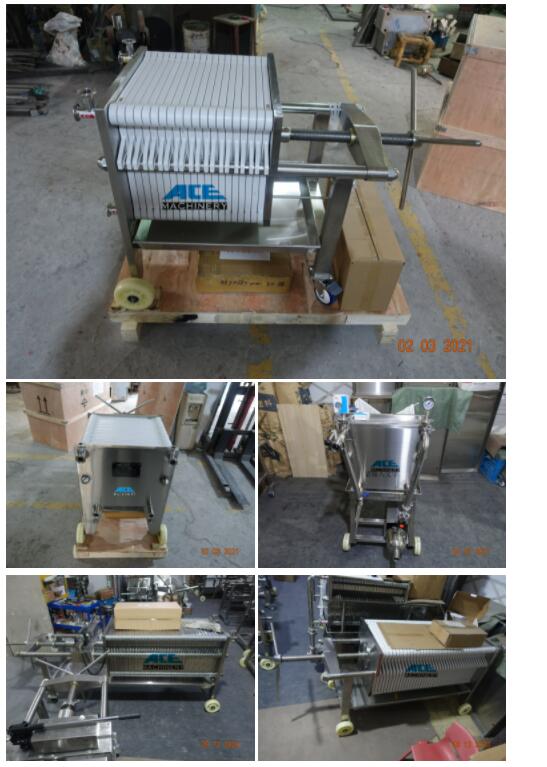 Concentration Less Than 50%, Low Viscosity, And Low Slag Content To Achieve The Effects Of Fine Filtration, Decarbonization, And Semi-Fine Filtration. It Uses Microporous Membranes Directly For Sterile Filtration. This Machine Has A Large Filtration Area, Large Flow, And A Wide Range Of Applications, So It Is Widely Used In Pharmaceutical, Chemical, Food And Other Industries, Especially For Pharmaceutical Injections, Liquid Filtration, The Effect Is Very Good.
The Design Idea Of The Plate-Type Filter Was Inspired By The Cardboard Filter, And This Filter Is Fine Manufactured After Innovation And Improvement. The Product Has A Novel Appearance And Practicality. It Can Fit Various Kinds Of Filter Materials Such As Filter Cloth, Filter Paper Board, Filter Film, Etc. It Can Meet The Requirements Of Different Precision, Grades And Filtration Processes Of Many Kinds Of Liquids.
Two Inlet And Outlet Connecting Pipes Are Used For The Inlet And Outlet Ports, Which Greatly Increase The Flow Rate And Ensure That It Is Pressed Evenly During Operation. Two Glass Sights Can Visually Observe The Difference Of Liquids Between Pre-Filtration And Post-Filtration; The Pressure Gauge Above The Feed Inlet Clearly Shows The State Of Working Pressure During Filtration; The Sampling Valve Above The Discharge Port Can Not Only Facilitate The Sampling Of Liquid Material After Filtration, But Also Can Be Used To Perform Deflation And Emptying Operation At The Time Of Turning On And Shutting Down The Filter. But Also Can Be Used For Deflation And Discharge When Turning On And Turning Off The Machine. The Tri-Clamp Connector Is Very Convenient For Installation And Removal. The Matching Valve And Fittings Conform To Iso And Other Health Standards And They Are Exquisitely Manufactured And Can Be Integrated With The Pipelines In The Workshop.
Charcteristic Of Plate And Frame Filter:
Unit Mounted On Wheels.
Valves And Fittings Is Made Of Stainless Steel 304 Or 316
Head Plate And Mobile Plate Clad Is Made Of Pp
Filter Closure By Means Of A Heavy Duty Threaded Rod Or Hydraluic Systerm
Pressure Gauges
Steam Sterilizable
Double Inlet, Double Outlet
Sanitary Fittings
Options Of Plate And Frame Filter:
Diversion Chamber For Double Filtration
Centrifugal Pump On Trolley Or Mounted On The Filter'S Frame
Manual Hydraulic Closure
Plates In Pp
Noryl Plates With Silicone Gaskets (End And Mid Plates)
Stainless Steel Blind Plates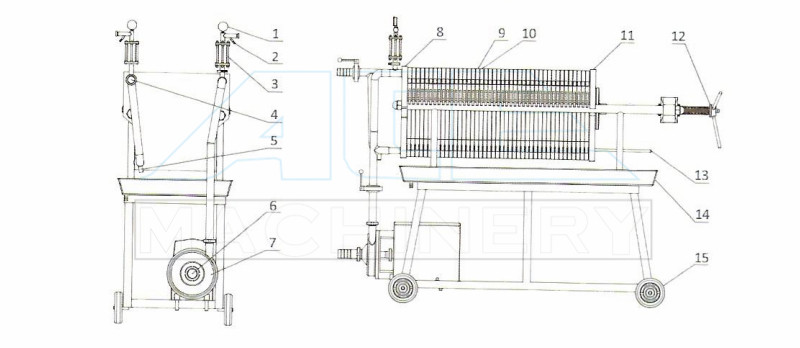 Structure:
1. Pressure gauge;2. Sampling valve;3. Sight cup;4. Liquid outlet;5. Vent valve;6. Feed port
7. Feed pump;8. Thrust plate;9. Filter plate;10. Filter frame;11. Pressing plate;12. Hand wheel screw;13. Cardboard support rod;14. Liquid tray;15. Universal wheel
Application
This rice wine filter machine is mainly for wine filtration, such as brandy, grape wine, fruit wine, beer etc.
Except wine filtration, wine filter machine also be used for tea beverage filtration, fruit juice filtration, gelatin filtration, blood products filtration, citric acid filtration industry precision, sterilization filtration process etc.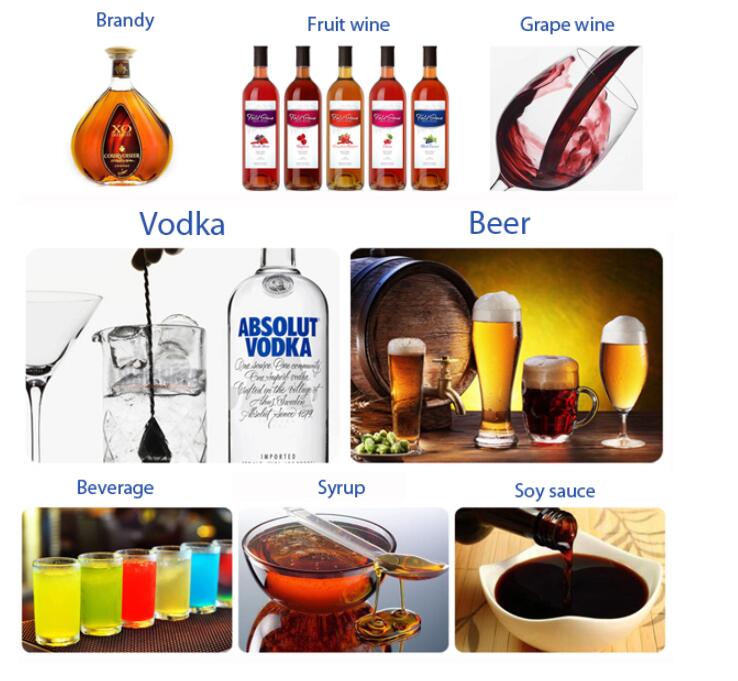 Send Inquiry Our expert salesman will get back to you within 24hours!!!