stainless steel wine tanks
A stainless steel wine tank is an ideal choice for wine storage and preservation They are durable, easy to clean, and will not absorb the taste or aroma of the wine
Product description
Description
A stainless steel wine tank is an ideal choice for wine storage and preservation. They are durable, easy to clean, and will not absorb the taste or aroma of the wine. Stainless steel wine tanks are also less likely to break than glass or plastic tanks and will not leach chemicals into the wine. Stainless steel wine tanks are available in various sizes to accommodate the needs of any wine lover.
Ace 1500L Stainless Steel Wine Tanks are commonly used for wineries, micro wineries, and commercial wineries. It can also be used as a storage tank for the finished wine.
Ace 15HL Wine Tanks are jacketed with dimple cooling jackets, which the automatic temperature controller can precisely excellent. They are well welded and have integrated turbulent baffles that eliminate temperature channeling of the glycol fluid, which increases efficiency while reducing operating and maintenance costs. Every glycol cooling jacket of the 1500L wine fermentation tank is tested at a
the pressure of 0.5 Mpa for 1 hour and 0.35 Mpa for 48hours.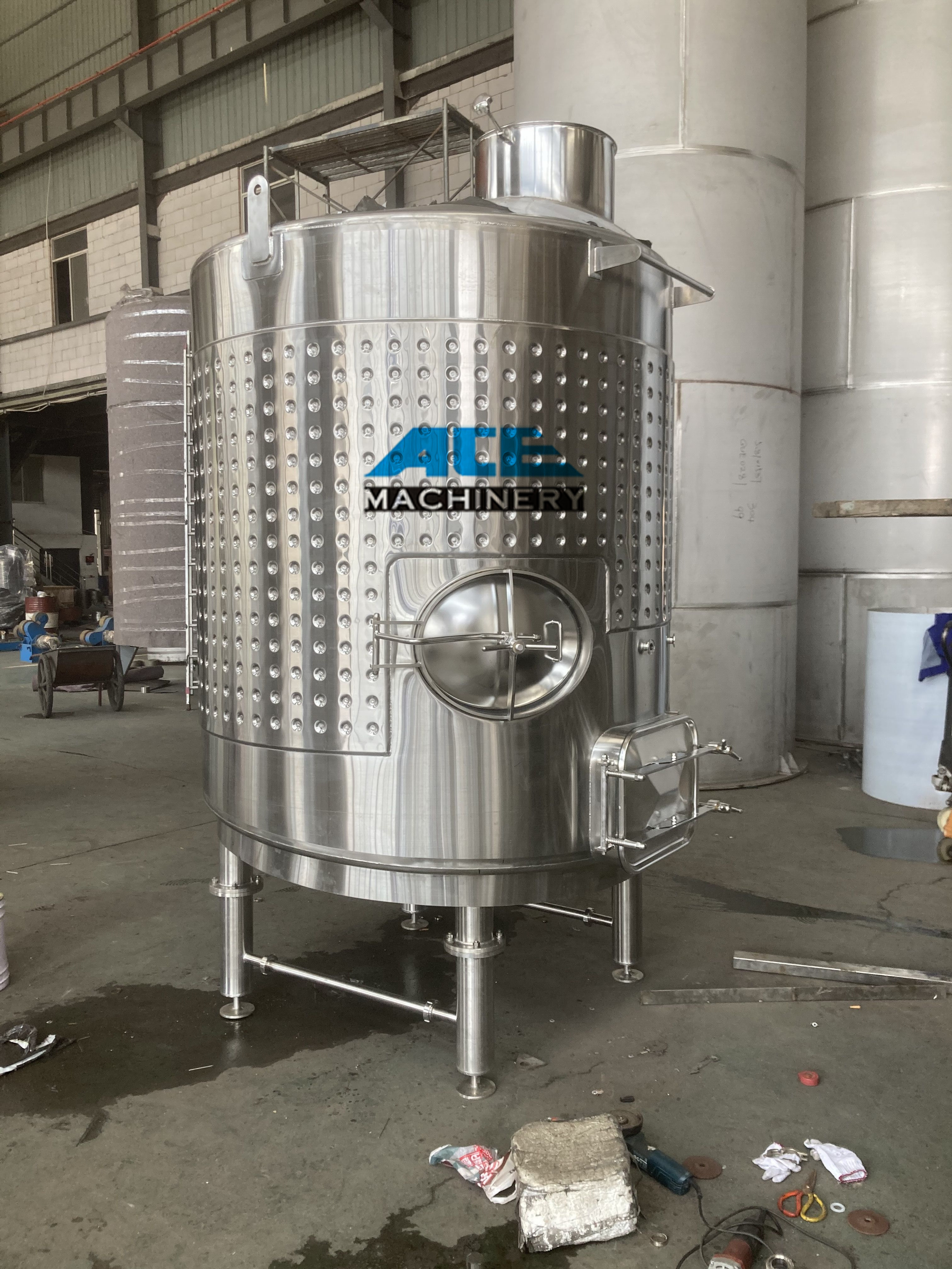 The conical bottom of 1500 liters wine fermentation vessel provides much convenience for yeasts' settlements or recovery. It also makes the tank cleaning much more accessible and uses the rotary CIP cleaning ball.
1500L WINE FERMENTATION TANK
SUS304 Stainless Steel
Dimple Jacketed
Front Manway
Conical Bottom
360° Rotary CIP Cleaning Ball
0.2μm to 0.4μm Inner Precision
Pickled and Passivated Interior Finish
Vacuum Pressure Relief Valve
Shockproof Pressure Gauge
Advanced Sampling Valve
Thermowell With PT100 Temp. Sensor
Rotating Racking Arm With Butterfly Valve
Discharge Arm With Butterfly Valve
Product Advantages
- Pass the certification of ISO/TUV/SGS for the production process.- Compliance with the standard of GE/PED/ASME.
- Fast response with local after-sales service in European countries and Australia.
- 5 Years Full Warranty of Tanks
- Verified by 1100+ breweries from 80+ countries worldwide.
Send Inquiry Our expert salesman will get back to you within 24hours!!!