Commercial beer brewing equipment
If you are looking to start a commercial beer brewing business, or if you are looking to upgrade your current beer brewing equipment, it is essential to know what the best commercial beer brewing equipment is on the market
Product description
Description
Ace is committed to the innovative design and development of the total beer process equipment.
This equipment is suitable for small and medium-sized breweries.
It is widely used in hotels, bars, resorts, entertainment venues, etc. Ace's craft beer equipment is easy to operate, covers a small area, has a high output rate, and tastes good.
Beer brewery equipment includes a milling system, mash system, fermenting system, refrigeration system, CIP cleaning system, control system, and heating system.
The main contents are:
1, high-quality malt as the primary raw material, process including wort production, beer fermentation production;
2, the main equipment configuration and technical requirements;
3, automatic fermentation control system. Design capacity from 100L to 5000L daily. We can customize it according to your unique requirements.
Beer Brewhouse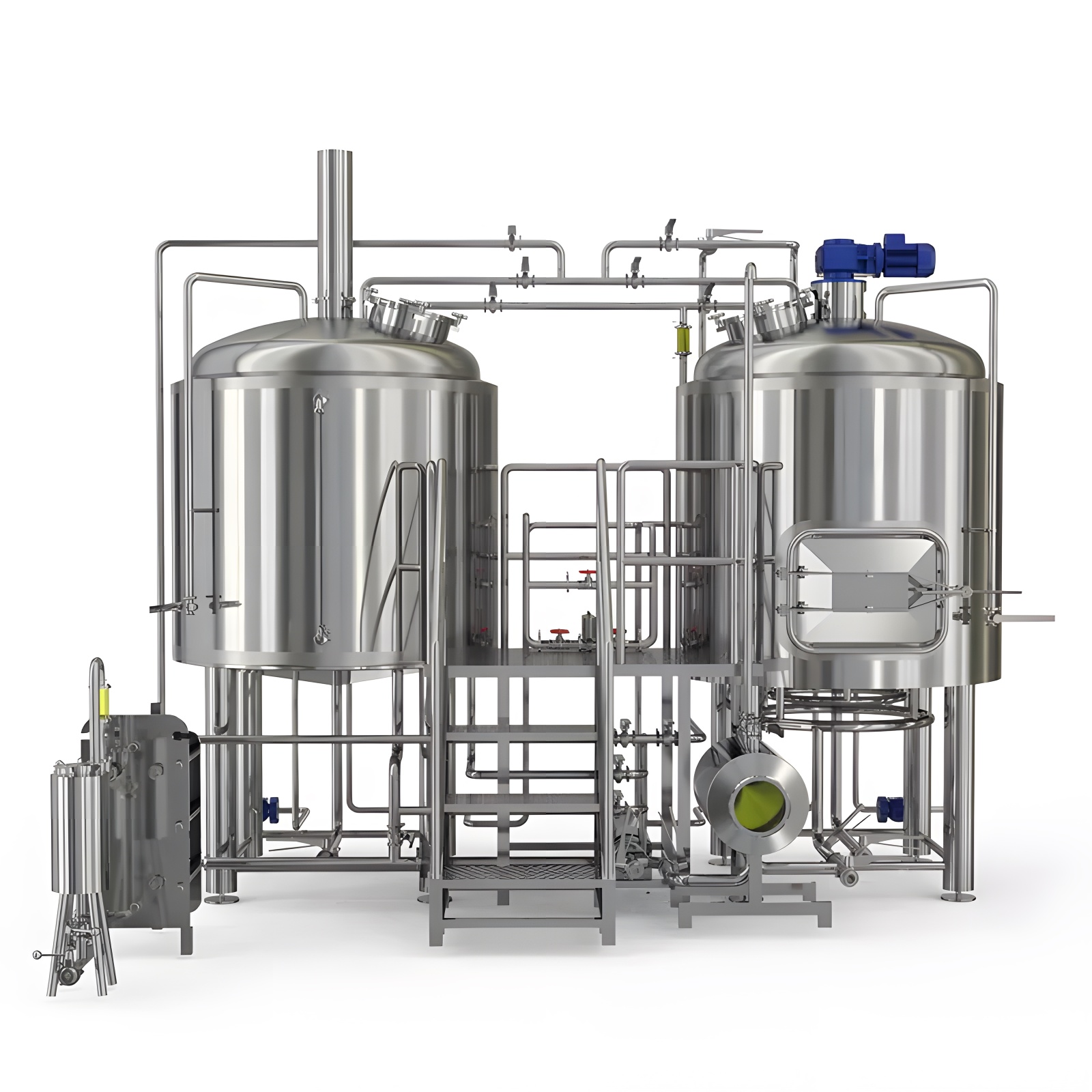 Two vessel beer brewhouse:
Mash tun/Lauter tank, Brew kettle/Whirlpool
Three vessel beer brewhouse
Mash tun,lauter tank,brew kettle/whirlpool
Brew kettle, lauter tank&whirlpool(at the bottom)
Mash tun/lauter tank, brew kettle/whirlpool tank, hot water tank
Four vessel beer brewhouse:
Mash tun,lauter tank,brew kettle.whirlpool tank
With a Glass manhole on top
Material: stainless steel 304/316L /red copper for the photos
With sus304 plate heat exchanger, yeast adding tanks.ABB pumps
With necessary valves, pipelines
Beer Fermenting System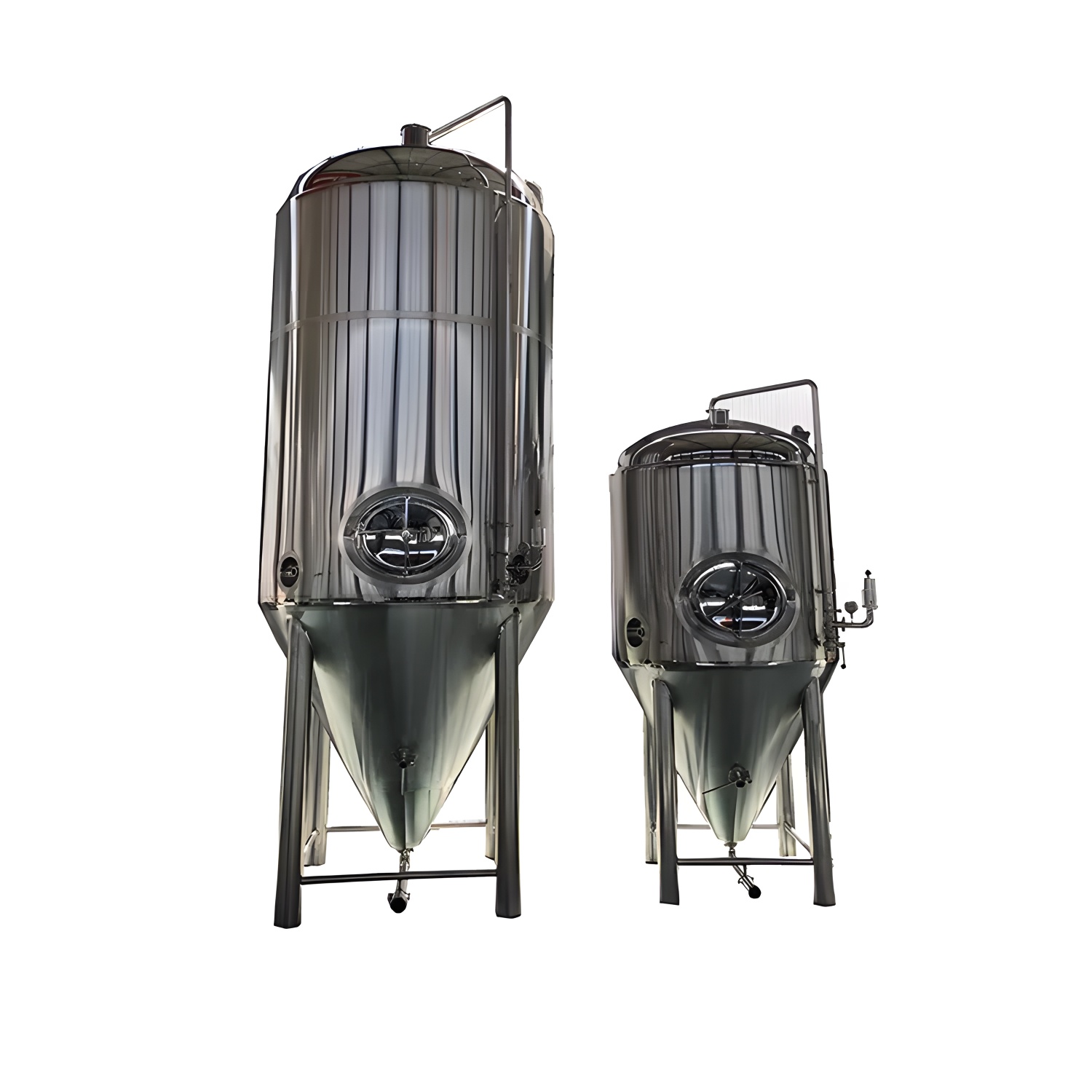 The capacity:100L-5000L
Material: stainless steel 304/316L
The thickness of tanks: inner 3mm. outer 2mm
Insulation:polyurethane material,80-100mm
Cooling jacket: dimple cooling jacket on the body and the cone
Water seal exhaust valve and the pressure gauge
With a CIP spray ball inside, Cip pipelines
Sample valve, beer out valve
Top manhole or side manhole
The pressure: test pressure 0.15-0.3mpa.working pressure 0.2, pa
With dry hop port.titanium road. display level
Product Advantages
1. We can customize the Beer equipment design per customer brewing method, and brewing beer types can make beer highest to 33 Plato.
2. All Construction uses high-quality SUS 304 food-grade stainless steel; all pipes are SUS304, with perfect 3mm inner and 2mm outer shells.
3. All tanks have specially designed jackets to ensure heating and cooling efficiency. Both cone top and shell bottom have jackets, and exchanging areas are big enough.
4. The headspace of our tanks is much bigger; the total volume does not include the cover headspace.
5. 100% TIG welding process to weld the tank, jackets welding are all full welding by water, uniform dimpled cooling jacket to ensure no leaking and long life, welds passivated!
6. Our polishing is overall mirror polishing, polishing six times to make Ra 0.4um mirror finish, can clean 360° without dead ends.
7. Jacket testing 12 hours with air and water, jacket testing pressure is 5Bar, internal shell testing pressure is 4Bar, and before packing, we will also have 48hours of water testing.
8. Strict quality control and process inspection & testing system, which all the testing records will show on our data late with the tanks shipping, with checking the list and serial numbers to track.
9. We insist on a high-end product line to manufacture our tanks, all components like chiller, exchanger, steam boiler, and Schneider/ABB electronics control systems adopt international brands to ensure quality and convenient after-sales.
Product Parameters
Brewery Equipment Configuration
Send Inquiry Our expert salesman will get back to you within 24hours!!!