plate and frame heat exchanger
plate and frame heat exchanger is a type of heat exchanger that uses metal plates to transfer heat between two fluids
Product description
Video
Description
The plate heat exchanger is high-effective and energy-saving equipment for heat transferring.
It has the characteristics of high efficiency of heating, high operational flexibility, light in weight and long service life, etc.
Adopt four-angle positioning technology, safe, reliable, and durable

Advanced frame design technology ensures no distortion
Adopt thermal mixing design technology to optimize heat exchange
Flow chart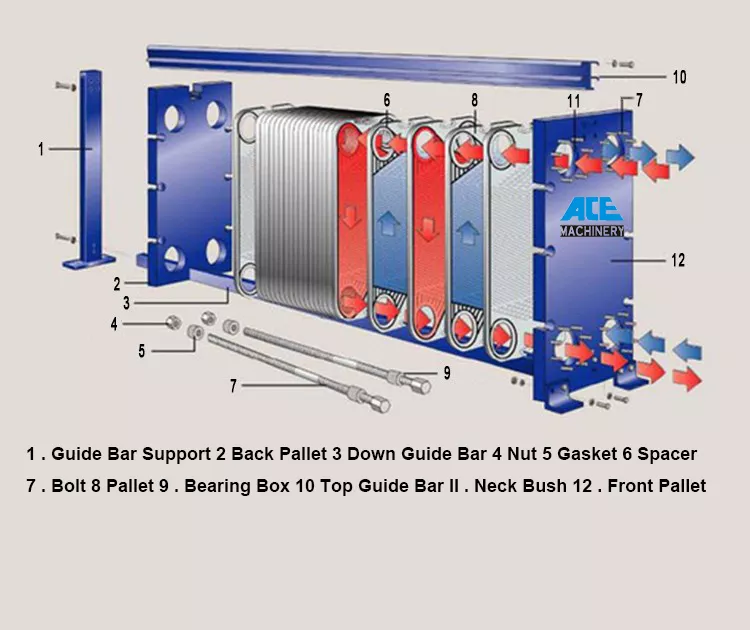 It is composed of a group of corrugated metal plants. The holes on it form a channel for liquids to flow, and the heat will be transferred between two kinds of drinks. The plates are assembled between a fixed frame board and a moveable clamping board and are tightened by the tightening bolts. These plates are installed with sealing gaskets. The sealing gaskets play the sealing function on the channels between plates and make the liquids flow into adjacent channels. The number of dishes is determined by flow, physical properties, and temperature of liquids. The joints can be located on the frame board and clamping board.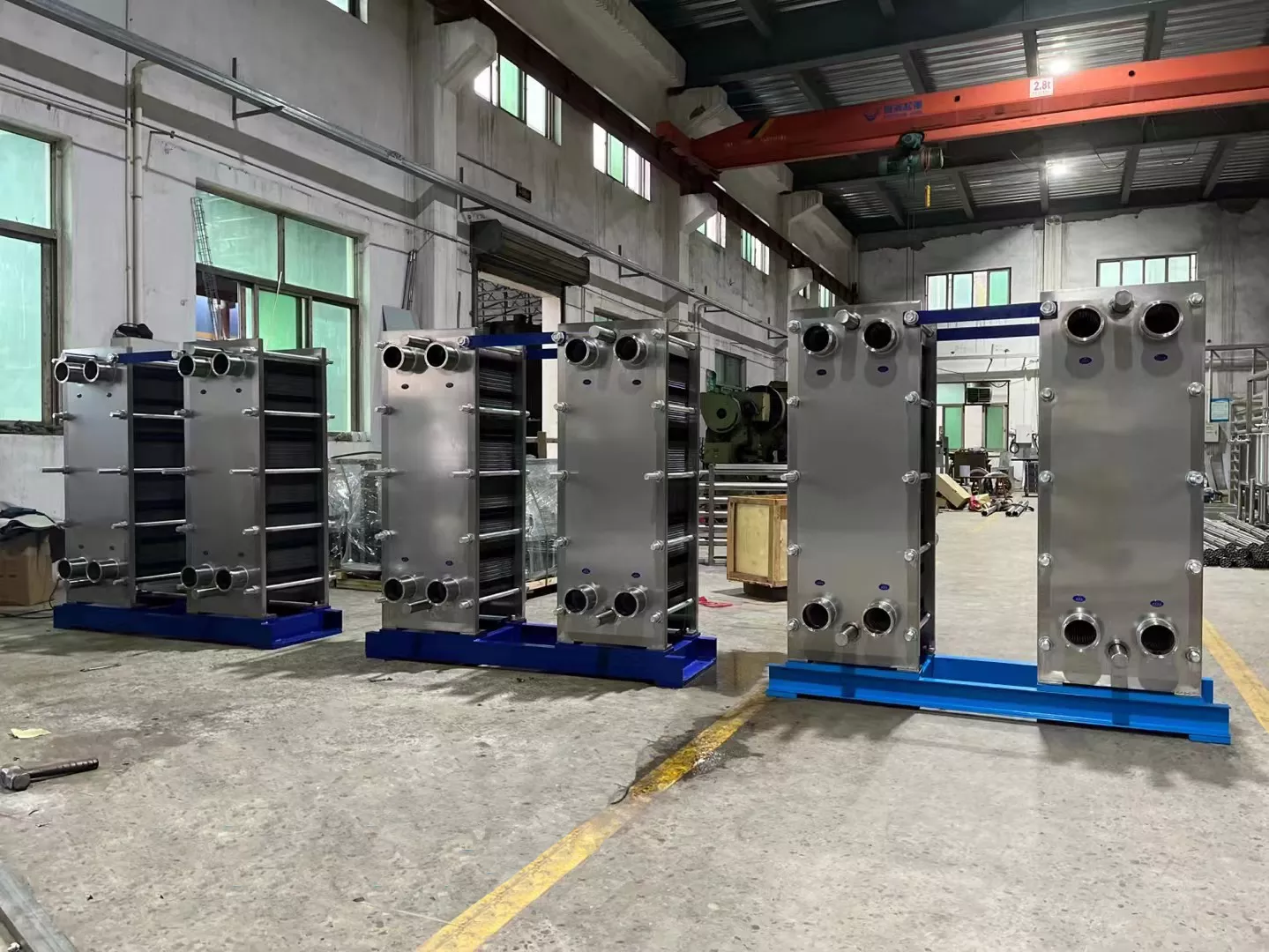 Plate heat exchangers are used in food and beverage processing.
1. all kinds of dairy products: fresh milk, milk powder, milk drinks, yogurt, and so on;
2. vegetable protein drinks: peanut milk, tea, soy milk, drinks, etc.
3. juice drinks: fresh fruit juice, fruit tea, and so on.
4. cool tea drinks: tea drinks, reed drinks, fruit and vegetable drinks, etc.
5. seasoning: soy sauce, rice vinegar, tomato juice, sweet chili sauce, etc.
6. breweries: beer, rice wine, wine, and so on.
Characteristics of the plate heat exchanger.
The plate-type heat exchanger has the characteristics of high heat exchange efficiency, high heat recovery rate, slight heat loss, and small space area.
The heat transfer coefficient of plate type heat exchanger is 3-5 times higher than that of the tube-type heat exchanger under the same pressure loss. The production has only 1/3 of the tube type, and the heat recovery rate can reach as high as 90%.
Heat transfer plate material
1. Stainless steel: SUS304/SUS304L/SUS316/SUS316L (suitable for corrosive conditions of acid and alkali medium, not suitable for chloride ion)
2. Industrial pure titanium: TAE ( caustic soda, salt making, low-temperature seawater freezing, and chloride ion corrosion).
3. Ultra-low carbon stainless steel: 00Cr18Ni14Mo2Cu2 (organic solvent, intercrystalline, and chloride ion corrosion occasions).
Send Inquiry Our expert salesman will get back to you within 24hours!!!