industrial electric heating mixing tank
300l double jacketed mixing tank sauce jam ketchup electric heating industrial mixing tanks
Product description
Description
The useage of products
industrial mixing tank is widely used for heating, cooking, dissolving, stirring, mixing and heat preservation of food, beverage, medicine, chemical industry, building materials, forest products and other aspects.
Working principle

Ace's mixing tanks come from variety of shape, including vertical, round, slant bottom, cone bottom and dish bottom. We offer both Single Wall or Jacketed to allow heating or cooling. Agitation specifications are based upon customer's request. The vessel could have CIP cleaning which more convinient for tank clean. Our mixing tanks are designed, manufactured, and inspected in accordance with GMP and ASME standard.

Structural characteristics

The contact surface of the equipment is made of high quality stainless steel. The surface if smooth, clean and beautiful, in linewith national food hygiene and chemical CMP standards, and is composed of head,cylinder, jacket, external insulation and agitation, to form heating and heattransfer interlayer. Materials are added to the tank, steam enters theinterlayer and heat exchange is carried out to achieve the purpose of dissolvingand stirring. Pressure gauge and safety valve are provided on the pipeconnected with the interlayer to determine the pressure in the interlayer. Equippedwith instruments, the operator can keep abreast of the working conditionsinside the equipment.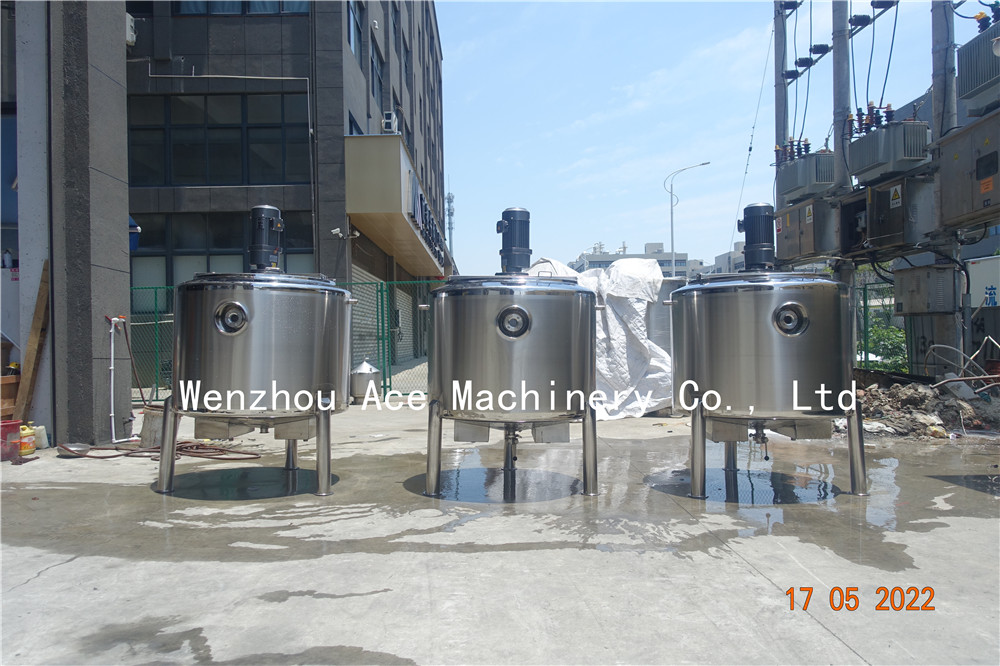 Industrial Agitators, Mixers & Blenders
We have a range of industrial mixing Tanks including stainless steel motors and gearboxes for corrosive atmospheres. Our top entry heavy duty mixers have high torque gear drives giving agitators the power to disperse heavy concentrates, powders and slurries through the water column.
Low rotational speed mixing and blending agitators provide low shear mixing. This gives a more powerful performance than high-speed propeller-type agitators, with 316 stainless steel shafts and heavy gauge formed blades to handle tough mixing jobs. Variable frequency drives and tank baffles to aid mixing efficiency are available. Powder-coated steel stands are included to support cone bottom mix tanks and support the mixers with stainless steel frame available for food applications.
The mixing tank manufacturer of Wenzhou ace Machinery Co., Ltd. has been committed to the R & D and manufacturing of stainless steel mixing tank equipment. The stainless steel mixing tank can be customized according to the customer's production process. The customized mixing tank is more suitable for the customer's production process and improves the production efficiency.
Send Inquiry Our expert salesman will get back to you within 24hours!!!