stainless steel blending tank
High quality process Sanitary stainless steel blending tank Beverage liquid blending tank with agitator
Product description
Description
stainless steel blending tank could be used in food, beverage, pharmacy, chemical industry,wine and alcohol etc industries.
The tank body is welded by imported three-layer stainless steel plate. The tank body and the pipes adopt mirror polishing or matte finish , which fully conforms to GMP requirements.
There are various agitator options of stainless steel mixing tank: impeller type, Anchor type, Turbine type, High shear mixer,magnetic mixer. The mixing tank could be made with or without jacket.
The scraper type agitator mixing adopts the frequency converter for speed adjustment , so that high quality products of different processes according to customer requirements.
The diversified high-speed homogenizer can powerfully mix solid and liquid raw materials and can rapidly dissolvemanyindissoluble materials such as AES , AESA , LSA , etc. during the liquid detergent production process so as to save energy consumpion and shorten production period. High Shear Homoegnizer adopts German Technology, 0~3500rpm variable speed, and maximum speed can reach to 4500rpm,the shear degree is about 0.2~5um.
According to customer requirement , the tank can heat and cool materials. The heating way including steam heating and electric heating. Easy to discharge , bottom direct discharge or by transfer pump.


Application:
It is widely used in dairy industry, food industry, pharmacy, chemical industry, beverage and other industrial sectors, as heating, cooling, heat preservation, anti-corrosive, anti-corrosive, strong production capacity, Cooling,insulation, sterilization treatment or storage of slurry must be stainless steel mixing tanks, especially for pasteurization of milk and
insulation, ice cream production line is the necessary equipment.
Material: SS304 / 316L;
Capacity: 50-5000L (customized is accepted);
Configuration with agitator and/or homogenizer;
Jacket: single layer, double jacket, three-layer
Thickness: 2mm, 3mm, 4mm, 5mm, 6mm, 8mm etc. (design according to pressure);
Head: open cover, seal with manhole/handhole etc.;
Shape: cylinder or cone, conical /flat/elliptical bottom with discharge.
Heat Method: gas, steam, electricity;
Structure
Stainless steel mixing tanks are widely applied in the beverage, food, dairy, pharmaceutical, chemical and process industries used as blender tank, buffer tank and storage tank, which cleanable to sanitary standards .
1.Capacity :100-20000L
2.Single layer/ double layers/ three layers
3.Motor power:0.75-5.5kw
4.Materials are all sanitary stainless steel .
5.Humanized structure design and easy to operate .
6.Transition area of interior wall on tank adopts arc for transition to ensure no dead comer of sanitation .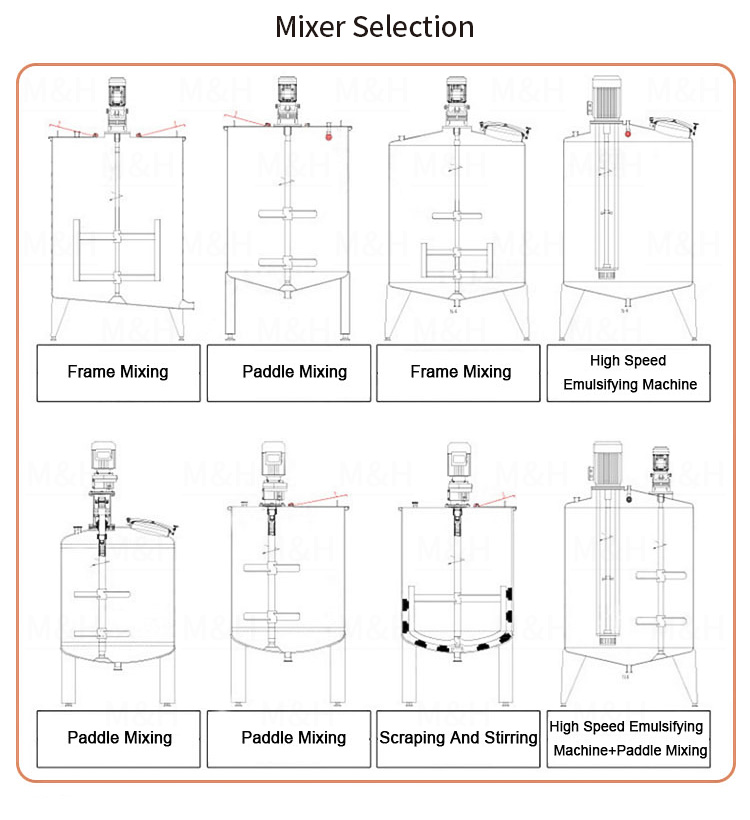 Send Inquiry Our expert salesman will get back to you within 24hours!!!