high shear mixing tank
A high shear mixing tank is a piece of process equipment that is used to blend, disperse, or homogenize viscous or semi-viscous materials
Product description
Video
Description
What is a high shear mixing tank?
A high shear mixing tank is a piece of process equipment that is used to blend, disperse, or homogenize viscous or semi-viscous materials. This type of mixer utilizes a rapidly rotating impeller to break up and suspend solids, while also creating a strong circulating current in the tank."
If you work with viscous or semi-viscous materials, then you know how difficult it can be to mix them properly. A high shear mixing tank can help with that.
The design and manufacture of the whole electric heating mixing tank meet the strict and harsh "GMP" specification requirements, achieve the purpose of economic use, safety, high efficiency, sanitation, thorough cleaning and convenient disassembly and cleaning, and have been affirmed by users.
Structural form of equipment: double openings of upper flat cover, lower cone bottom head, bottom discharge and vertical three legs.
Functions and characteristics of electric heating mixing tank: it can heat (the medium in the jacket is heated by the electric heating pipe, the heat energy is transmitted, the materials in the tank are indirectly heated, and the temperature is automatically controlled) for heat preservation, cooling and mixing.
It has the following characteristics:
1) Stainless steel 304 / 316L shall be used for the inner tank of the tank and the parts and components in contact with materials, and stainless steel 304 shall be used for other materials of the tank.
2) The inner tank is polished with mirror surface (roughness ra0.4um), and the outer decorative surface cylinder is polished with mirror surface, which is clean and beautiful.

3) The mixing adopts constant speed or speed regulation to meet the mixing requirements of different loading and different process parameters (frequency conversion speed regulation, and online real-time reading of mixing speed value, output frequency, output current and other values)

4) Operation state of the mixing device: the materials in the tank are mixed quickly and evenly, the load operation of the mixing transmission system is stable, and the channel sound of the load operation is ≤ 40dB (a) [lower than the national and ministerial standards of < 75db (a)], which greatly reduces the noise pollution of the laboratory.

5) The mixing shaft seal adopts sanitary, wear-resistant and pressure resistant mechanical seal, which is safe and reliable.

6) A device is specially set to prevent the materials in the tank from being polluted after the oil leakage of the reducer, which is safe and reliable to ensure that the materials have no pollution risk.

7) About one third of the area of the upper flat cover is an open movable cover, which is convenient for feeding and thorough cleaning, and the discharge at the bottom of the tank is clean without material liquid retention.

8) A movable baffle is set in the tank, which meets the mixing requirements and has no dead corner for cleaning, so it is more convenient for disassembly and cleaning.

9) Automatic temperature control, sensitive temperature control and high precision (digital display temperature controller and PT100 sensor are adopted, which is easy to set, economical and durable)

10) All process interfaces are connected by short quick assembly, which is smooth, easy to clean and convenient for assembly and disassembly.

Simple and convenient installation and use: only connect the required power line (380V / three-phase four wire) in the wiring terminal of the electric control box, and add materials and heating medium into the tank and jacket respectively
technical parameter
Technical document support: provide equipment drawings (CAD), installation drawings, product quality certificates, installation and operation instructions, etc.

Capacity (L)

Motor power (kw)

Cylinder height (mm)

Cylinder diameter (mm)

Mixing speed (R / min)

Working pressure (MPA)

working temperature

Basic accessories

300

0.55

600

800

36 (standard) /120 (optional)

≤0.09MPA

<160℃

thermometer

Safety valve

Pressure gauge

400

0.55

800

800

500

0.75

900

900

800

0.75

1000

1000

1000

0.75

1220

1000

1500

1.52

1220

1200

2000

2.2

1500

1300

3000

3

1500

1600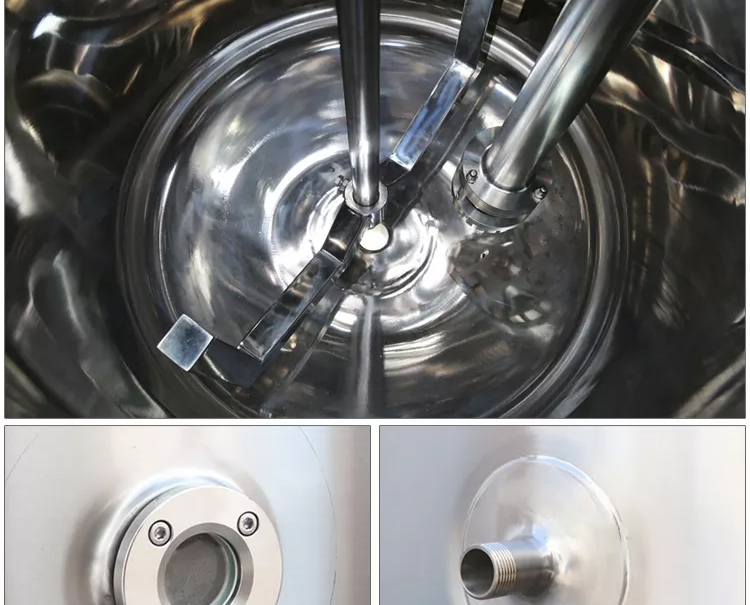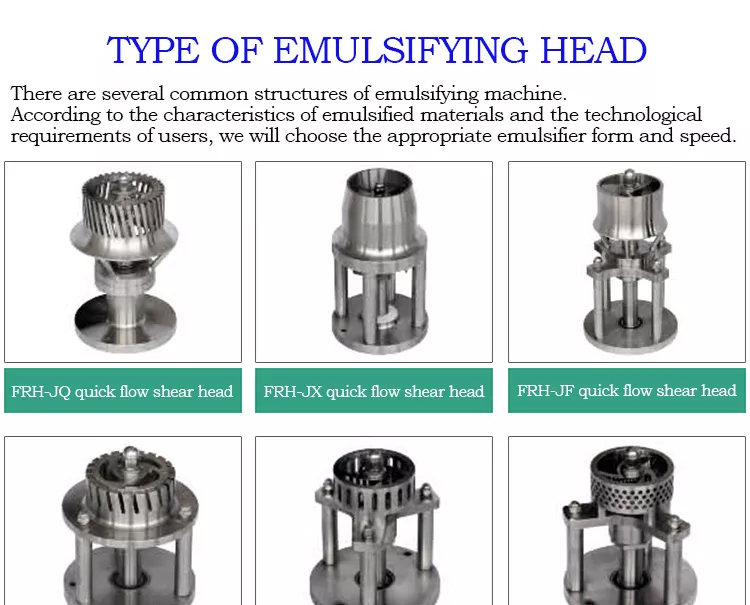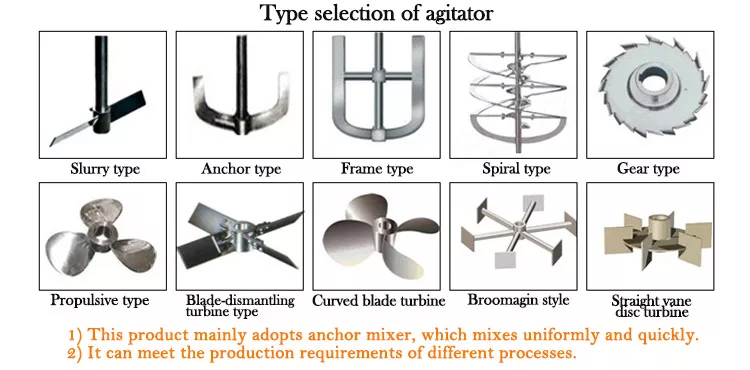 Applications of High Shear Mixing Tanks
food, mining, paper-making, water treatment fine chemicals, cosmetic cream making, hand sanitizer gel wahsing liquid detergent making etc.

Send Inquiry Our expert salesman will get back to you within 24hours!!!