Fertilizer Mixing Tank
The design of mixing tanks is an important area of industrial process engineering that is frequently overlooked in the design process Mixing ta...
Product description
Video
Description
The fertilizer mixing tank is suitable for mixing, mixing, reconciling, and homogenizing materials. It can realize the control of feeding and discharge, mixing regime, and other automatic control according to the production requirements. It can also be switched to manual control. It is applied to any process that requires stirring, homogenization, crushing, suspension, and dissolution, such as emulsion or mucilage. To meet different process requirements, expand the scope of use.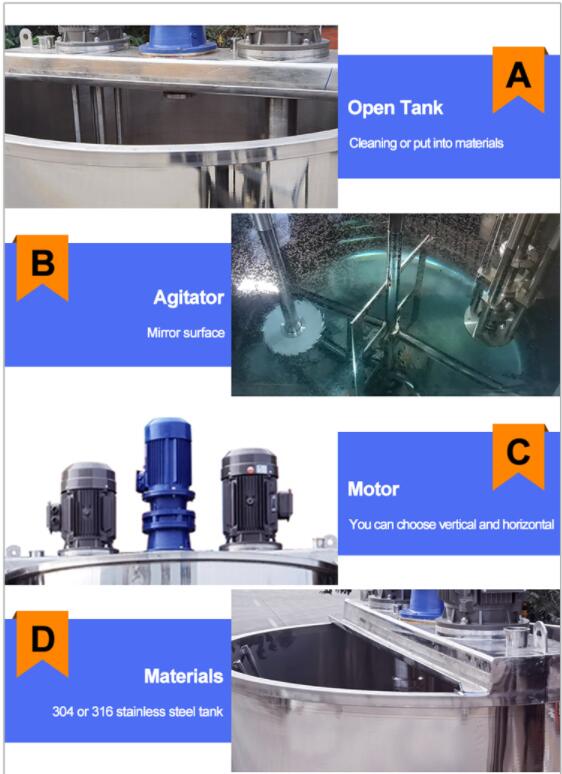 Features:
1. Stainless steel 304/316L is used for the tank liner and parts in contact with the material. The rest of the tank body is also made of stainless steel 304.
2. The internal and external is mirror polished (roughness Ra≤0.4um), neat and beautiful.
3. Mixing at fixed speed or variable speed, meeting the requirements of different loading and process parameters for agitation (frequency control, online real-time display of stirring speed, output frequency, output current, etc.).
4. Agitator operation state: the material in the tank is mixed quickly and evenly, the load of the stirring transmission system is running smoothly, and the load operation noise is ≤40dB(A) (lower than the national standard of<75dB(A), which significantly reduces the laboratory's sound pollution.
5. The agitator shaft seal is a sanitary, wear-resistant, and pressure-resistant mechanical seal, which is safe and reliable.
6. It is equipped with special equipment to prevent the reducer from contaminating the material inside the tank if there is any oil leakage; very safe and reliable.
7. One-third of the upper flat cover is openable and movable, making it easy to feed and clean thoroughly. It is discharged from the bottom of the tank, clean, and free of liquid.
8. A movable baffle is installed in the tank to meet the mixing and stirring requirements, and there is no dead cleaning angle. It is more convenient to remove and wash it.
9. With automatic temperature control, high-temperature sensitivity, and high precision (with a digital display temperature controller and Pt100 sensor, easy to set up, economical and durable).
10. The clamp is applicable for ports, smooth and easy to clean, and also easy to assemble and disassemble.
11. Easy to install and use: plug in the required power cable (380V/three-phase four-wire) in the terminal of the electric control box, then add materials and heating medium to the inside of the tank and the jacket, respectively.
Send Inquiry Our expert salesman will get back to you within 24hours!!!