Three Effect Falling Film Evaporator
New Design Good Price Customized Orange Mango Juice Concentration Three Effect Falling Film Evaporator
Product description
Video
Description
By Adopting the falling film evaporation form, the equipment is used for concentration and evaporation of fruit and vegetable juices and other heat sensitive materials. The equipment is mainly composed of evaporator , separator, condenser etc. It is widely used for concentration and dehydration in food , biology, pharmacy, chemical industry etc.
It is especially suitable for heat sensitive products. With the function of continuous feeding and discharging, the fall film concentrator is stable and easy to operate. When the system starts to work, it only needs to adjust various parameters as required in the initial feeding stage and ensure continuous and stable supply of materials at the same time, then it can concentrate the product continuously, stablely, efficiently to reach qualified gravity requirements. The solvent can be recovered at the same time. We can design and produce it as one effect type, two effect type and three effect type according to the different requirements of different customers. The whole system of the fall film concentrator can be automatically controlled by PLC.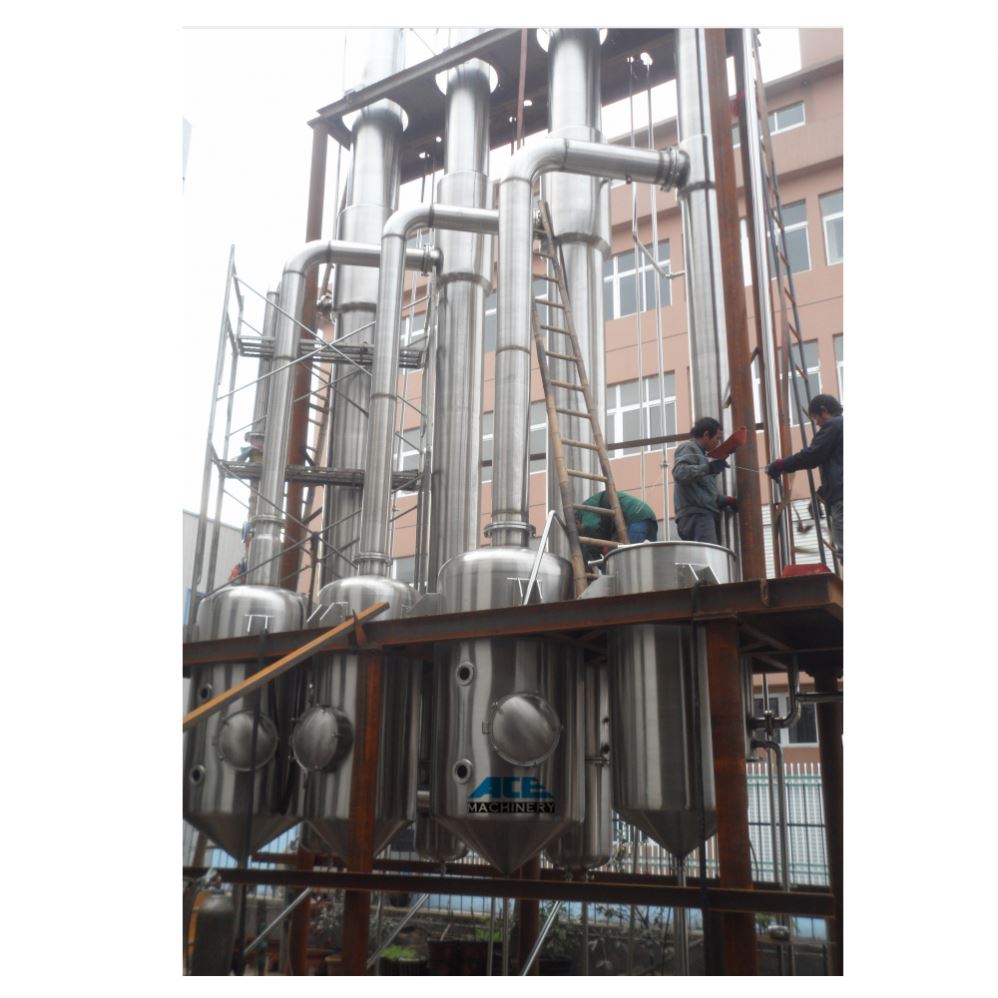 Feature
* It has short heating time, fits for heat sensitive product. Continuous feeding & discharging, product could get concentrated in one time, and retention time is less than 3 minutes
* Compact structure, it could finish product pre-heating and concentrating in one time, to save the extra cost of pre-heater,
reduce the risk of cross contamination, and occupied space
* It fits for processing high concentrated & high viscosity product
* Three effect design saves steam
* The evaporator is easy for clean, there's no need of dismantle when cleaning the machine
* Half Automatic operation
* No product leakage
Application:
The ACE falling film effect evaporator has wide use range:
- For Orange juice/peach juice/grape juice/Pomegranate juice/Tomato paste/apple juice/date juice/mango juice and any other juice processing;
- For meat slurry/ brewer yeast processing; for fish meal processing;
- For Milk processing: Milk evaporator; Whey evaporator
- For drink usage : tea evaporator; coffee evaporator;
- For waste water treatment: waste water evaporator;vinasse evaporator NaCl waste water treatment
-For phamaceutical field: TBD OIL concentration; calcium lactate concentration etc
- Any other usage : Amino acid evaporator; chemical evaporator etc
Characteristics
1. Vacuum system, fast and low temperature evaporation; Can be combined with the forced circulation evaporator/crystallizer;
2. Large scale of concentrate ratio as the products between the different effects can recycle separately, so the concentrate ratio can be regulated in large scale;
3. The equipment is equipped with CIP cleaning system;
4. Type : from single effect to 8 effect;
5. Capacity:0.5-100t/hr
6. Multi heating source: Steam/ conductive oil/hot water
7. Save energy;
FAQ
Q: How about payment term, payment safety and delivery time?
A: We accept 40% deposit, balance before shipment. And Irrevocable L/C at sight.Delivery time is 7 to 30 days. It is according to order quantity.
Q: How could we confirm the products?
A: Our professional engineers will follow up all the designs and ajustments according to your requirement.OEM and ODM available.
Q: What services can we provide?
A:Accepted Delivery Terms: FOB,CFR,CIF,EXW,DDP,DDU,Express Delivery;
Accepted Payment Currency:USD,EUR,CNY;
Accepted Payment Type: T/T,L/C,Credit Cardl,Western Union,Alipay;
Q: How can I know your machine works well?
A: Before delivery, we shall test the machine working condition for you.
Q: What's your MOQ?
A: 1 set.
Send Inquiry Our expert salesman will get back to you within 24hours!!!