Lab high shear mixer homogenizer
High-shear Homogenizing Emulsifier Laboratory Experiment Mixer Homogenizer For Chemicals Cosmetic Lab Used
Product description
Video
Description
if you want to develop new products, to get the exact data from experimentation is very important. You could adjust the product configuration and technology, and speed up the development according to parameters got from lab test. Data got from experimentation is also an important reference for your item choice. Enlarge reaso-nably the lab test data, and it could be your basic parameters of industrial production. By this way, we could avoid item choice mistake and risk.
Lab high shear mixer homogenizer machine adopts structure compact series-excited type miniature high speed motor drive for the Low to medium and high viscosity liquid mixing, crushing particle materials in liquid medium shear emulsification.The emulsifying machine is widely sed in the lab experimentation, to test or develop new product. With small size, high quality ,easy to operate.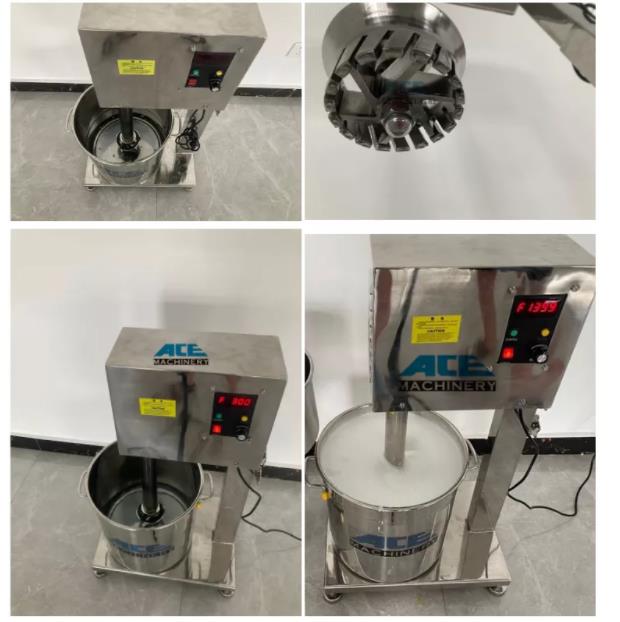 INTRODUCTION
Laboratory emulsifying machine is used to test whether the performance of a small amount of cream materials can meet the design requirements, so as to pave the way for mass industrial production. This machine has the advantages of small volume, convenient movement, simple operation and no requirements for the site.
The emulsifying machine shears, disperses and impacts the materials through the high-speed rotation of the homogenizing head connected with the engine. In this way, the material will become more delicate.
FEATURES
*The laboratory emulsifying machine is specially designed and manufactured for small batch production of emulsified products such as cream, honey, emulsion emulsions, etc.
*The machine has the advantages of beautiful appearance, small volume, light weight and high-quality stainless steel (Note: 316L is used for medical use);
*Smooth circular arc transition is adopted at all joints inside the pot body, and the bottom discharge and dumping discharge ensure that there is no residue in the pot;
*High shear homogenizing head, the stator and rotor structure is designed as claw dual bite, and the materials are sucked from the upper and lower parts of the stator and rotor at the same time, so the shear probability is doubled, and the problem that the upper materials are easy to produce dead angles is avoided.
*It is suitable for fine emulsification, high-quality dispersion and high-efficiency mixing. All-round wall scraping and mixing materials roll without dead angle, which really meets the GMP standard.
Send Inquiry Our expert salesman will get back to you within 24hours!!!