Cosmetic Cream Making Machine Mixers
Wenzhou Ace Equipment is a Cosmetic Lotion Mixer producer in China, having actually served many appeal and cosmetic manufacturing sectors in years
Product description
Video
Description
Wenzhou Ace Equipment is a Cosmetic Lotion Mixer producer in China, having actually served many appeal and cosmetic manufacturing sectors in years. Seeking emulsion batch mixers available for the manufacturing of body lotions, face creams, cold creams, beeswax creams, herbal ointments and other cosmetic cream formulas? Take a look at our specialized mixing tools!
The device is suitable for the manufacturing of various sort of paste, lotion items in aesthetic factory as well as pharmaceutical factory. Particularly made for the manufacturing of stable emulsions lotions, milk, gels, balms, lotions, ointments, toothpastes, and so on having exceptionally little particles for chemical, cosmetics, pharmaceutical as well as food industries.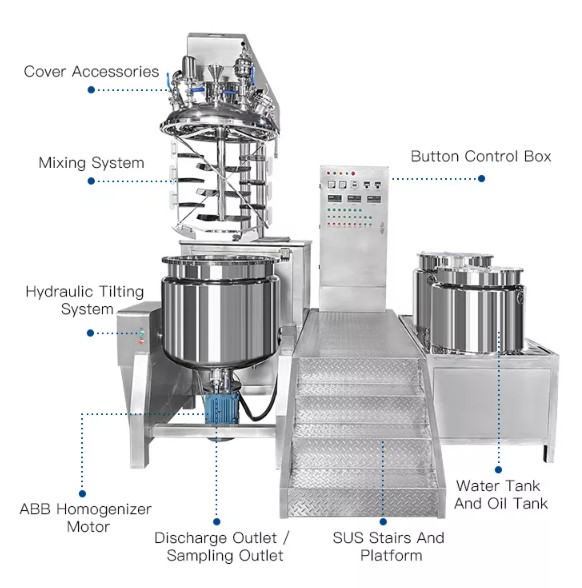 Features and Benefits
1. The vacuum emulsifying mixer machine is composed of water pot, oil pot, emulsifying pot, operation system, vacuum cleaner system,
raising system etc.
2. Material can be heating or cooling down according to technical requirements. The home heating approaches such as heavy steam or electrical
heating can be chosen according to consumer's needs.
3. The storage tank body is constructed from the premium quality stainless steel and all contact components take on the SUS316L stainless-steel. The storage tank
body and also pipeline undergo mirror polishing.
4. Various types of blending vanes appropriate for manufacturing of different sorts of manufacturing of items.
5. The wall scraping mixer adopts frequency converter to change the mixing rate, appropriate for different products based upon clients'
requirements.
6. The blending system consists of single-way mixing, double-way mixing as well as helical bow blending. The training systems consist of
single-cylinder training and double-cylinder training. According to your demand, we can customize the suitable machine for you.
7. Vacuum defoaming can make the material reach demand of aseptic. It takes on the vacuum cleaner to draw the material particularly for
the powder product, which can stay clear of the dirt.
8. It is completely based on the GMP criterion production and also passed CE accreditation.
Working Principle
The materials in the water-phase tank and oil-phase tank are heated up and stirred. After they are thoroughly mixed, they will be transferred to the emulsifying tank by vacuum pump. The material will be stirred by the upper part of the central paddle, combined with the PTFE scraper sweeping the wall, the material will be stirred thoroughly and meanwhile be pushed down to the emulsifier at the low part of the central axle. With very high speed emulsifying effect, the material will be seriously cut, sheared, and cracked into 200nm – 2um particles. The bubbles appear during the process will be sucked out promptly in the vacuum status in the tank.
Aesthetic Lotion Manufacture By Wenzhou Ace Machinery Mixer
Intro
Production aesthetic creams whether in a tiny scale or big range manufacturing requires the ideal collection of blending as well as loading devices. One of the leading difficulties cosmetic manufacturers deal with is when lotion solutions come to be unstable.
An unpredictable solution implies two things:
One, you do not have an emulsifier in your formula or you obtained the wrong kind. An Emulsifier serves as a binder for two immiscible materials such as oil and water.
Two, your mixing tools are not effective sufficient to make an emulsion by breaking down the oil as well as water molecules.
Therefore, the combination may either flocculate, coagulate, coalescence or separate. Without correct mixing, aeration might come as an issue, which not just harms the agitator blades, yet likewise create issues in the cream loading maker.
Hence, your cosmetic cream formula might wind up as a revenue loss if you do not get a PROPER COMBINING DEVICES. With that said, you require Ace's Cosmetic Lotion Mixing Devices.
Wenzhou Ace Machinery Cosmetic Lotion Mixers
Ace's Aesthetic Cream Mixer is distinctively made and also manufactured for effortlessly mixing viscous body lotion blends as well as various other skincare items. With faster response prices, our industrial-grade mixer can get the wanted consistency and particle dimension in much shorter mixing time. We have aesthetic mixers with several sizes and also design arrangements to suit your particular active ingredient characteristics and also your budget.
Co-opted as well as Consistent Blends of Cosmetic Lotion Ingredients
Our specialized set mixer for cosmetic cream-making does high-shear mixing which extensively co-opts, emulsifies, degenerates, mixes as well as solubilizes cosmetic active ingredients. This results in a carefully textured lotion that your customers will certainly enjoy applying on their skin! And also, it would not hurt that we provide competitive costs for our industrial mixers than global rates.
Customized Mixer Devices for Specific Lotion Solution Needs
Face creams and body lotions are either used as a moisturizer or as a protective obstacle. In these two various applications, aesthetic cream formulations might differ to obtain different resulting residential properties and also viscosities.
Therefore, to obtain the best mixer specifications, Wenzhou Ace Machinerytailors personalized mixing equipment that matches the requirements of your product under different tons. This assures even more precise blending power as well as temperature and also makes a quick procedure as well as quick transition. Eventually, it causes faster ROI as well as lesser downtimes.
Suggested Mixers for the Aesthetic Lotion Manufacture
Ace's Vacuum Homogenizer Mixers
A Vacuum Homogenizer Mixer for Aesthetic Lotion is a vacuum-sealed system during blending, which aids decrease undesirable oxygenation and also prevent microbial growth. The vacuum also aids in drawing the powders in for easier flow. The majority of skincare manufacturers like our vacuum cleaner homogenizer mixer for its ability to produce attire, agglomerate-free combinations of lotions, lotions, ointments, and also sunscreen. We have various dimensions for small to large range cosmetic cream production.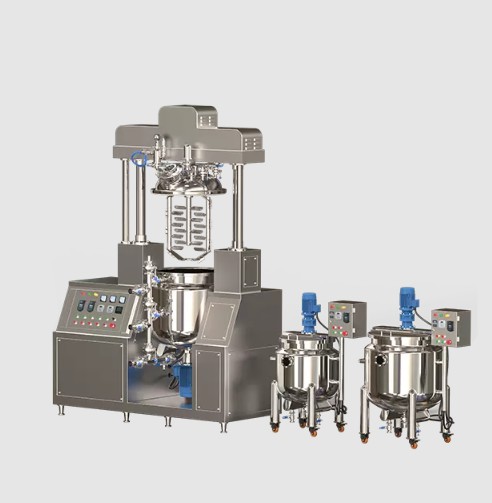 Ace High Shear Batch Mixers
Ace's High Shear Mixer is our maximum cosmetic cream mixer which efficiently homogenizes, emulsifies and disintegrates luscious and also thick solutions. It has a top-grade, precision-made rotor-stator homogenizer with a patented style for mixing. Various other components include a training system, an electric motor as well as transmission component, and also a mobile represent convenience of procedure and also transition. We additionally consist of an inverter, which helps the driver change parameter speed whenever needed.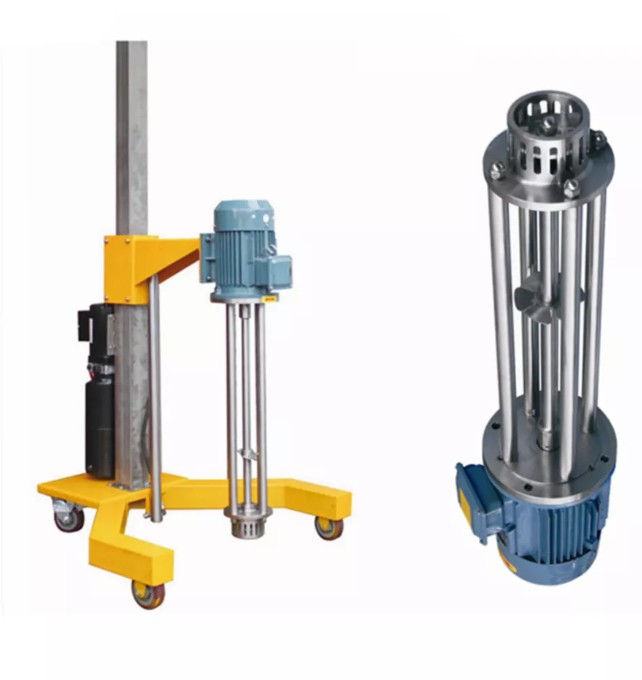 Our high shear set mixer is used in different abilities to suit your demands, varying from 100 to 300L. This mixing machinery makes bulk cosmetic cream blends in minimal time and at maximized throughput.
High Shear Powder Induction Mixer for Thick Lotions
The High Shear Powder Induction Mixer is made use of in the production of viscous creams in numerous cosmetic plants. It has a powder feed receptacle and also an inline suction pump which place an included energy in incorporating powders into the fluid in the mixing tank. Not just is it beneficial when feeding large quantities of flake powders into the container, but also helps in when blending high viscosity mixtures. It also minimizes oxygenation and agglomerate-forming, which can be a trouble throughout the packaging process.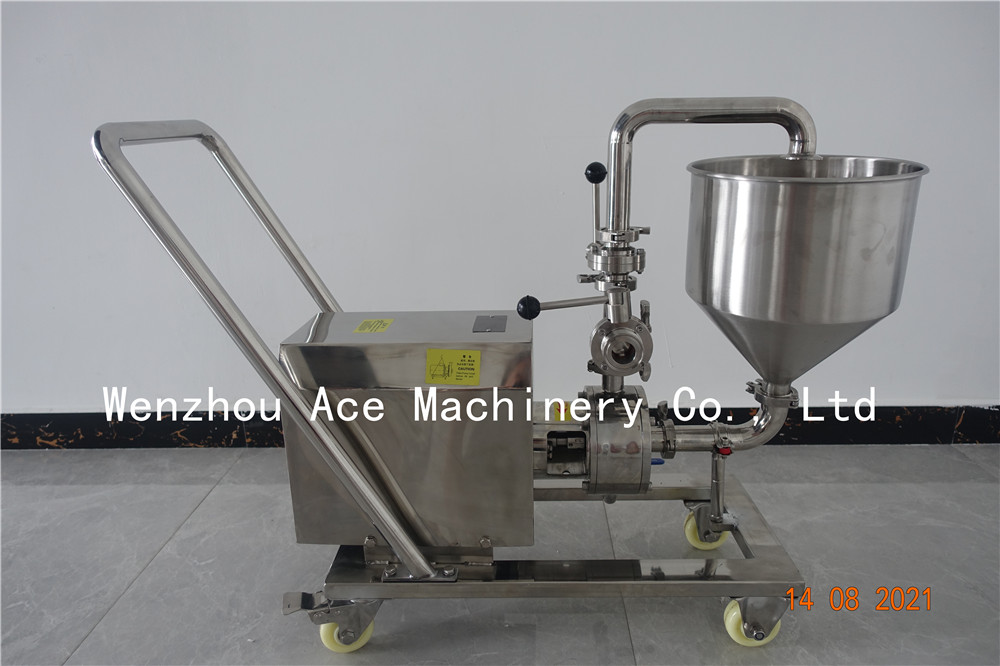 Send Inquiry Our expert salesman will get back to you within 24hours!!!