1000 liter bulk milk cooling tank
This 1000 liter bulk milk cooling tank is used for storage and cooling the fresh juice of pasture and farm
Product description
Video
Description
This 1000 liter bulk milk cooling tank is used for storage and cooling the fresh juice of pasture and farm, it also can be used for small milk collection station, dairy processing plants, and food, feed, pharmaceutical factories.
Adopting internationally-advanced technology of the 1990s, Milk Storage Tank (Milk cooling tank, milk cooling tank price ) cools by circular and vertical wall. The fully automatic control system makes whole process of oservation avaliable. The cooled raw milk can reach rapidly needed temperature of 4~5 and keeps constant, which can make raw milk as A grade cream.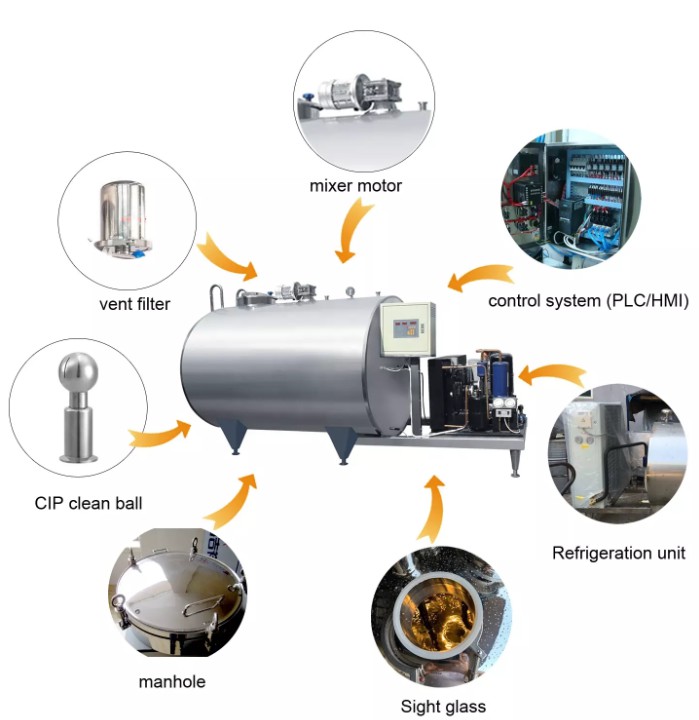 Details of our cooling milk tank:
Material: SUS 304-2B stainless steel;
Welding procedure: AC-TIG;
Insulation layer: 60~80mm PU foam,temperature rise under 0.9°C within 12 hours;
Agitator rotate speed: 32~36rpm;
Compressor: American Copeland ZB series, low noise, good stability;
Control system: intelligent temperature controller, save manpower;
Cleaning function: full automation, more convenient;
Special orders: Design as customized by customers' requirements.
Send Inquiry Our expert salesman will get back to you within 24hours!!!