Steam jacketed kettle with agitator
steam jacketed kettle with agitator double jacketed kettle stainless steel jacket cooking mix kettle
Product description
Video
Description
Steam Cooking Pot also known as steam pot, cooking pot, mezzanine steam pot.The machine is widely used in the processing of all kinds of food, also can be used in large restaurants or canteens boil soup,cooking, stew, porridge, etc., is a good equipment to improve the quality of food processing, shorten time, improve labor。
Application of steam jacketed kettle
This machine is widely applied in all kinds of food processing,candy,syrup,lotus paste,beanpaste, jam, sweetmeat,pastries,drinks,candied fruit,can,fruit jam,beans,popcorn,jujube paste,sauce,curry prepared food and daily chemical industry,pharmaceutical and other industries,mixing and pharmaceutical,dairy,wine and other food processing.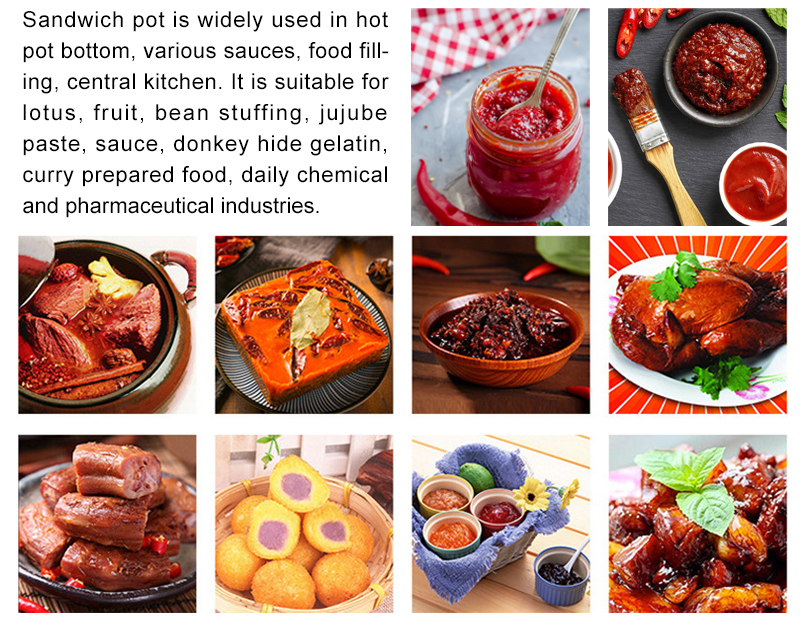 Tilting jacketed kettle is composed of kettle, bracket, worm wheel and worm etc. The kettle can revolve with 180°,The equipment is used for open concentration, mainly for decocting and concentration of liquids in industries of pharmaceutical industry, food industry, chemical industry and light industry etc. Contact area of the equipment with materials is made of stainless steel SUS304,which has perfect corrosion—proof performance, and is highly endurable according to GMP requirements. Blender also can be added according customer requirements.
Features of jacketed cooking kettle
1.It is widely used in candy, cakes, soft drinks, fruit juices, dairy products, canned food and brewing, pharmaceutical, daily life and so on industry sandwich pot.mainly used in meat products, candy, beverages, canned food, can aslo be used for large restaurants or dining room of porridge, boiling water,cooking
2.The cooking pot body adopts a stamping molding stainless steel head, ensure the smooth
3.High-quality stainless steel manufacturing, fully meet the requirements of the food hygiene.
4.Mixer with agitator, using tiltable pot, discharging fast and no residue.
5.Compact structure, convenient operation and maintenance, high efficiency, low energy consumption, long service life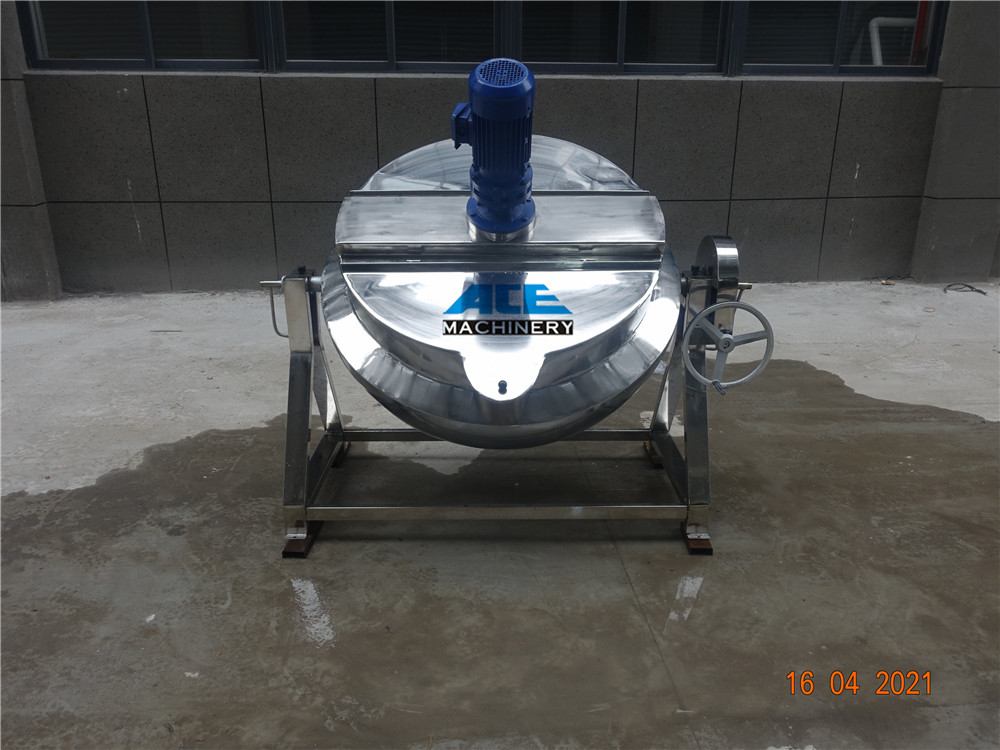 Classification of jacketed cooking kettle
By heating method:
1. Electric heating type;
2. Steam heating type;
3. Gas(pls indicate LPG or natural gas) heating type
By configuration of the Jacketed Kettle:
1. Tilting type / vertical type;
2. With agitator / without agitator;
3. Ordinary stirring type / planetary stirring type;
4. With lid / without lid;
Send Inquiry Our expert salesman will get back to you within 24hours!!!