Product description
Description
Introduction of direct milk cooling tank
Milk refrigeration tank is the main supporting equipment for mechanized milking in pastures. It is more suitable for manual milking of pastures and milking stations, and milk factories cool and store fresh milk. It is mainly used for cooling and storing fresh milk and other liquid materials. Through the automatic control system, one-step observation and operation can make the chilled raw milk quickly drop to the required temperature ºC and keep the constant temperature. It can prevent bacterial reproduction and keep the raw milk in the state of grade a milk.
Principle and structure of direct cooling milk tank:
Milk refrigeration tank is mainly composed of tank body, mixer, scrubber, refrigeration unit and electrical control box. The milk cooling tank is a horizontal elliptical body. Polyurethane rigid foam board is adopted between the inner and outer tanks. The material has the thermal insulation layer with low thermal conductivity, light weight, high strength and low water absorption, and has good heat preservation performance. The product has advanced design and manufacturing technology, reliable performance, cooling, thermal insulation performance and health standards are in line with the advanced level.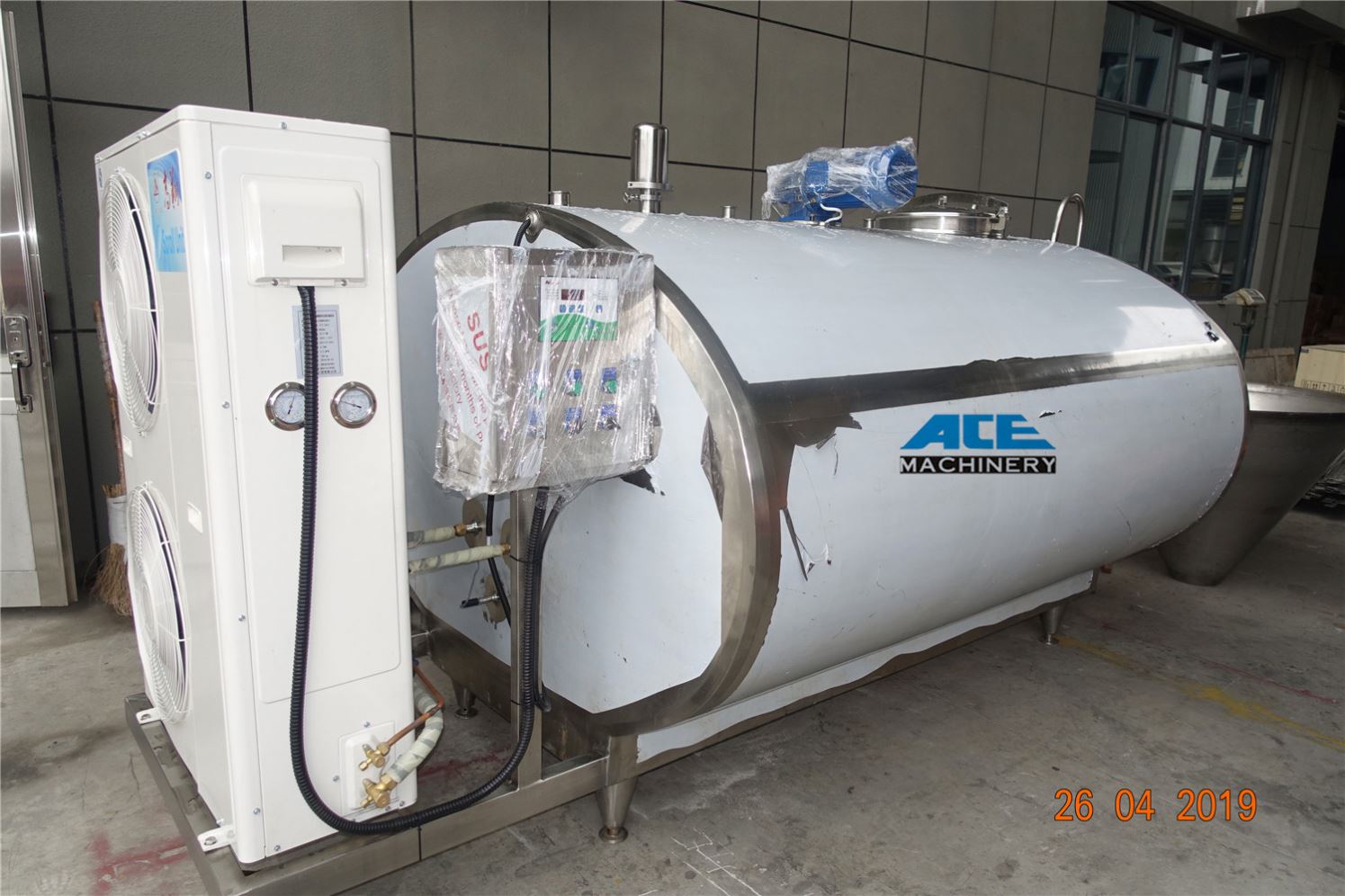 Features:
1. Capacity: 200L-10000L

2. Type: vertical tank/horizontal tank
3. Mixing: paddle type agitator or other types like frame, anchor, scrape types,etc.
4. Respirator, Thermometer, Inlet and Outlet sanitary valve, Ladder
5. Refrigerator and overpressure protection system
6. Quick open manhole/Open lid
7. Various types of CIP cleaners
8. Adjustable Legs/Movable Wheels
9. Liquid level control(Customized)
NOTE: The style and capacity of our milk cooling tank are all customizable. If you have any problems about our products, please feel free to contact us!
1. The sanitary grade stainless steel 304/316 milk cooling tanks mainly used to cooling and storage milk or other liquid.
2. This milk cooling tank absorbs internation advanced technology, adopts importing compress machine, safety and protection system, micro computer monitor, advanced technique and equipment such as polyurethane bubbing, honeycob board evaporator.
3. This milk cooling tank/milk cooler can be used in pasture, milk station, milk factory, food factory, beverage factory and pharmacy industry.
4. The cooled raw milk can reach rapidly need temperature of 4-50°C and keeps constant, which can prevent the generation of bacteria and make raw milk as A-grade cream.
Send Inquiry Our expert salesman will get back to you within 24hours!!!