beer pasteurizer
beer pasteurizer is a unit that uses heat to kill bacteria and other microorganisms in beer This process is essential to prevent spoilage and preserve the taste of the beer Pasteurization is also used to prolong the shelf life of beer
Product description
Description
beer pasteurizer is a kind of sterilization equipment specially designed for Beer, Wine, or similar liquid materials. It's an ideal equipment to extend the shelf life of fabrics by sterilization and cooling.
The heating, sterilization, heat preservation, and cooling requirements are designed according to different processes, different materials, and different process combinations that can meet the process requirements, with various safety protection measures, high temperature, alarm, and low-temperature backflow. At the same time, according to users' needs, the automatic control system can be configured.
Our strengths:
*Large output and slight loss
*Extend the shelf life of products
*It can produce high-quality products and keep nutrients
*Aromatic substances can be added and mixed precisely
*Application of high technology to save energy consumption
*Multiple products can be produced on the same production line
*It can be designed according to the unique requirements of users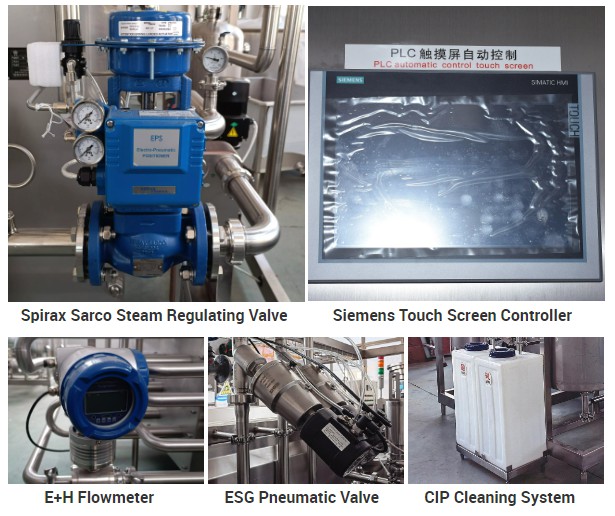 Steam Control system
Steam Control System is an integral part of Pasteurizer; It contains a steam rate adjustable valve, plunger valve, steam pressure reducing valve, steam trap, and steam filter. A sound steam control system can guarantee the machine is working stable. All of the steam valves come from Spirax Sarco (England).
Control Panel
Created for operators of every experience level, our integrated automation software is connected to a 10.1" touch screen interface, which gives operators an overview of the pasteurizer, including temperatures, pressures, etc. Its performance is displayed in real-time, and the operator receives an immediate alert if there is a fault. The whole line can be viewed from one interface if the automation solution is integrated into the bar.
Divert System
The temperature of the product is verified both before and after the holding cell. The product can only continue out of the pasteurizer if it has been heated to the right temperature and held in the holding cell for the proper time. If this is not the case, a signal is automatically sent to the divert valve, and the product is redirected back to the balance tank for recirculation.
Smart Balance Tank
An intelligent balance tank with a CIP washing ball high-level/low-level transmitter. The feeding pump will automatically stop when the product is at a high level in the balance tank. The product pump will automatically stop when the product is at a low level in the balance tank.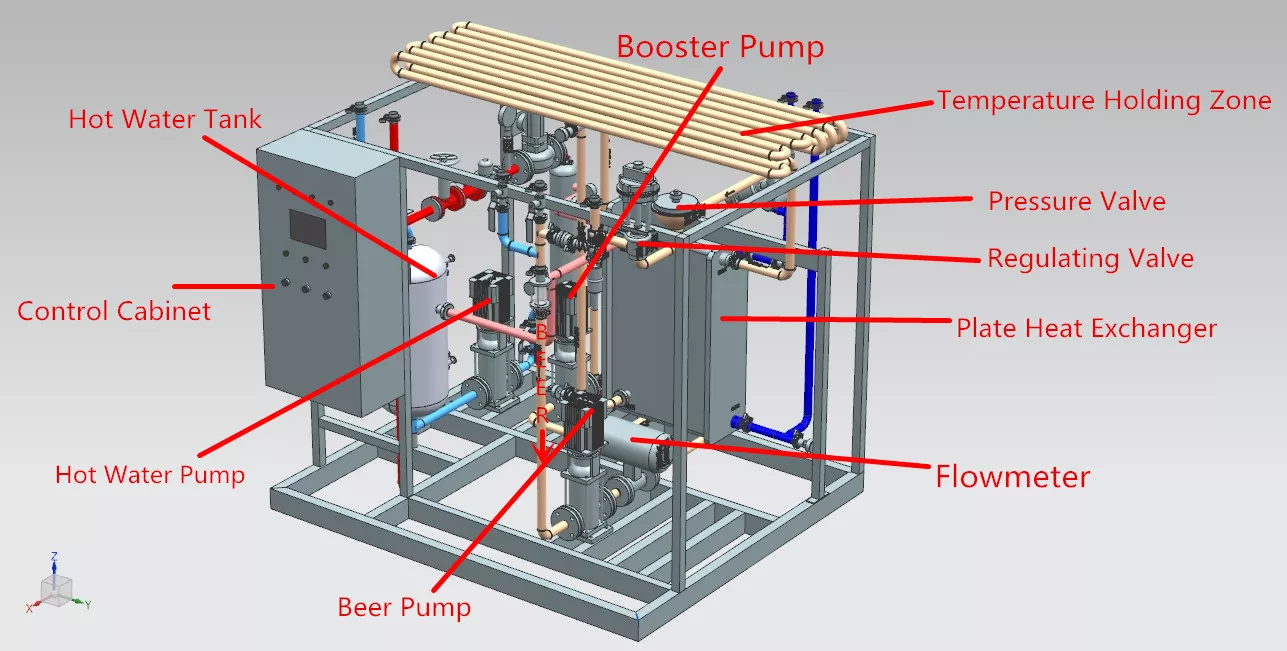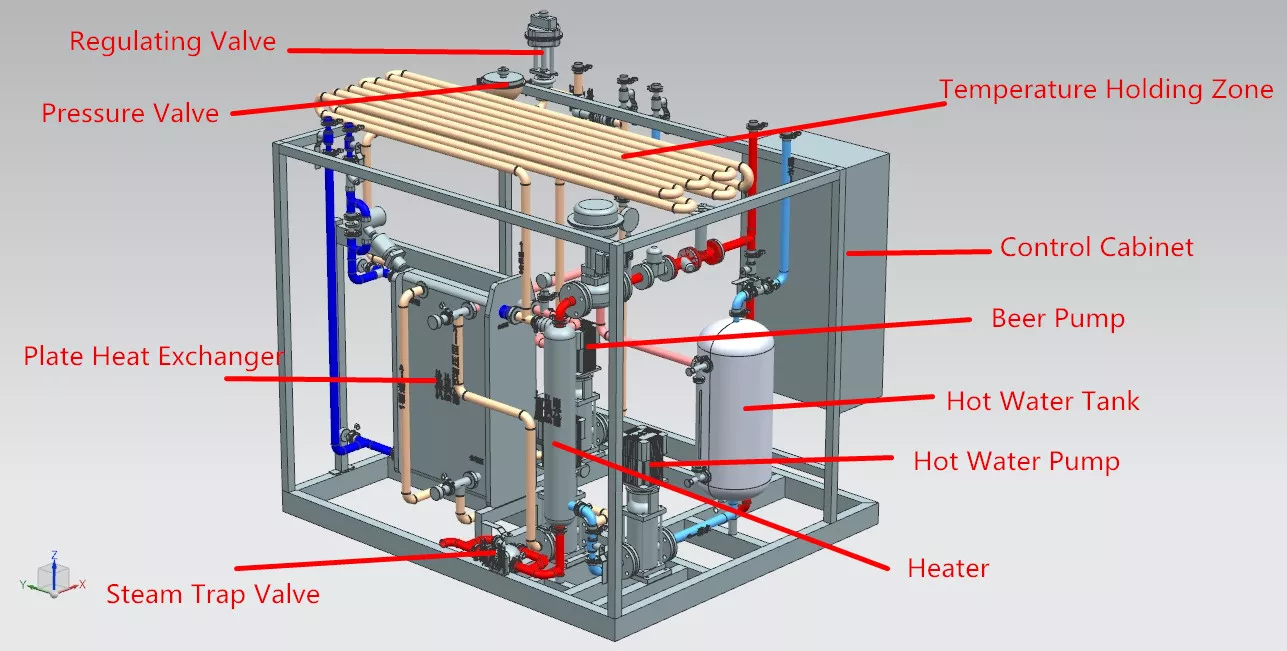 Product name

beer pasteurizer

Type

plate heat exchanger pasteurizer

Reference capacity

1T/H

2T/H

Steam pressure

>0.25Mpa

0.25Mpa

Steam consumption

12kg/h

24kg/h

Ice water flow rate

3T/H (-1~2℃)

6T/H (-1~2℃)

Compressed air pressure

>0.6Mpa

>0.6Mpa

Power

4KW

4KW

Beer inlet temperature

0~4

℃

0~4

℃

Sterilizing temperature

70~85

℃

70~85

℃

Beer outlet temperature

0~4

℃

0~4

℃

-The process can be customized & adjusted according to customers' requirements;

-Using PLC+HMI control, the production process can be displayed on the HMI clearly, and temperature curve can be traced;

-The main components all adopt international brand products, to ensure the product quality and long time service life;

-Can be combined with the CIP system for thorough cleaning.
Send Inquiry Our expert salesman will get back to you within 24hours!!!