Vertical type milk cooling tank
Stainless Steel 304 Milk Cooling Tank Small Farm Cow Milk Cooling Tank Milk Cooler 100L-5000L
Product description
Video
Description
Milk cooling tank adopted international advanced technology. Large-area cooling by round-type and straightwalled, through automatic control systems,intuitive operation in one step, so that the raw milk in milk cooler tank rapidly reduced to the required temperature4~5°c, and keep milk storage tank prevent multiplication of bacteria and maintain the raw milk in A-class state.
Wenzhou Ace Machinery Co., Ltd Vertical cooling milk pot is mainly used in cooling to storage sweat milk or other liquid. It absorbs international advanced technology, adopts importing compress machine and safety and protection system, micro computer monitor, imported advanced technique and equipment such as polyurethane bubbling, honeycomb board'evaporator. So it is the ideal cooling and storage equipment for pasture, milk factory, food factory, and beverage factory and pharmacy industry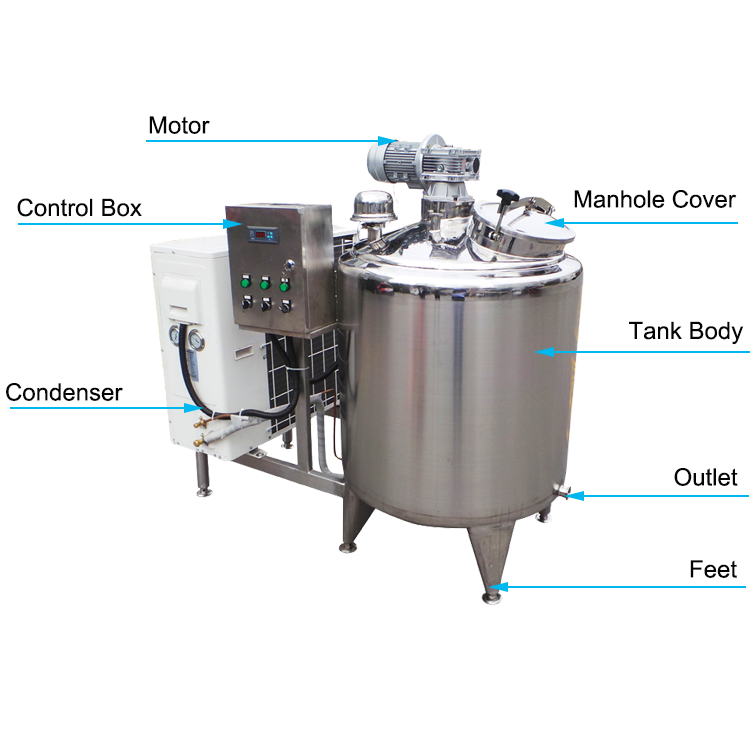 Advantages:
1.With automatic cleaning device and mixing device

2.Customized size to fit tank dimensions and ambient temperatures
3.A wide range of controls to secure reliable refrigeration
4.Long service life

Send Inquiry Our expert salesman will get back to you within 24hours!!!