Horizontal type Milk Cooling Tank
Factory Price Stainless Steel 304 316l 100l - 30,000l Milk Chiller Machine Dairy Cooler Tank Milk Cooling Tank Storage Tank
Product description
Video
Description
Principle and structure of direct cooling milk tank:
Milk refrigeration tank is mainly composed of tank body, mixer, scrubber, refrigeration unit and electrical control box. The milk cooling tank is a horizontal elliptical body. Polyurethane rigid foam board is adopted between the inner and outer tanks. The material has the thermal insulation layer with low thermal conductivity, light weight, high strength and low water absorption, and has good heat preservation performance. The product has advanced design and manufacturing technology, reliable performance, cooling, thermal insulation performance and health standards are in line with the advanced level.
Features of direct cooling milk tank:
1. The tank wall adopts advanced plate evaporator to directly exchange heat and refrigeration with milk.
2. The refrigeration compressor is imported from France. It is equipped with reliable neutral point protector, which will not burn out the motor due to overload or system failure.
3. All tanks are made of SUS304 or 316 stainless steel with automatic pressure cleaning and manual and automatic mixing devices,
4. The new technology of polyurethane foam is used in the insulation layer, which has good thermal insulation performance.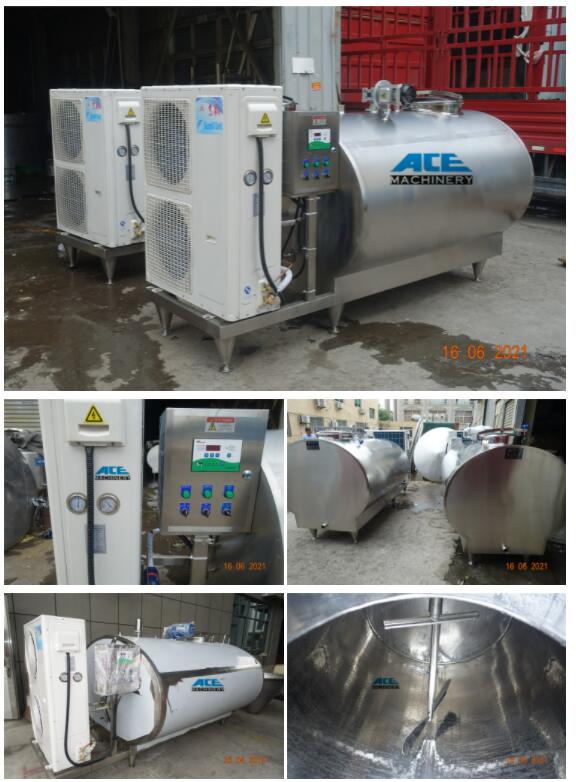 1. Material: Stainless steel 304 316L
2. Equipped with refrigeration system
3. Cooling jacket, PU insulated (50-80mm)
4. Capacity: 100L-30,000L
5. Consist of control box, refrigeration group, inlet, CIP cleaning Head,
Agitation motor, manhole, temperature meter, tank body, outlet.
6. Working temperature: 35-4 Cels
7. Refrigerant: R404A(recommended)or R22
8. Custom made available
9. Vertical and horizonal two options
Send Inquiry Our expert salesman will get back to you within 24hours!!!