vinegar fermentation tanks
Vinegar fermentation tanks are used to store and ferment vinegar The size and shape of the tank will vary depending on the type of vinegar being produced
Product description
Description
A vinegar fermentation tank is an essential equipment for any vinegar producer. The tank allows for the efficient and controlled fermentation of vinegar, which is necessary for producing high-quality vinegar. A vinegar fermentation tank is typically made of stainless steel, which is resistant to corrosion and easy to clean. The tank is also equipped with a stopper, allowing easy removal of the finished vinegar. Vinegar is produced through the fermentation of ethanol by acetic acid bacteria. The bacteria convert the ethanol into acetic acid, the primary vinegar component. The fermentation process is typically carried out at a temperature.
We design all kinds of the vinegar fermentation tank. They are of reasonable design, advanced technology, and automatic control and reach GMP standards. The tank adopts vertical or horizontal and single-layer or double-layer structure and adds heat insulator according to customers' requirements. The inner layer is polished to Ra0.45μ M, and the outside surface adopts a mirror or frosted plate to keep warm. There are water inlet, reflux inlet, sterilizing inlet, cleaning basin, manhole cover, and 0.45μ M air respiratorresuscitator
Volume

300L

400L

500L

600L

800L

1000L

1500L

2000L

3000L

Body diameter(mm)

Φ800

Φ800

Φ900

Φ1000

Φ1000

Φ1000

Φ1200

Φ1300

Φ1600

Body height(mm)

600

800

800

800

1000

1220

1220

1500

1500

Motor power(kw)

0.55

0.55

0.75

0.75

0.75

0.75

1.5

2.2

3

Stirring speed(rpm)

36r/min

Working pressure

≤0.09Mpa

Working temperature

<100°C

Accessories

Sanitary manhole, cleaning ball,safety valve,pressure gauge
vinegar Fermenter Features
1. Inner shell, jacket plus clad, middle insulation. Jacket type: miller jacket, tracing pipe jacket, full jacket.
2. Insulation material can be rock wool, glass wool, or PU.
3. All materials should be stainless steel.
4. Inner wall is arc transition, with no dead corner.
5. Agitator location according to the technological selection.
Configuration
1. Quick open maintenance hole.
2. Various types of CIP cleaning balls.
3. Fly and insect-resistant sanitary breathing cover.
4. Adjustable triangular bracket.
5. Dismountable materials input pipe assembly.
6. Thermometer
7. Ladder
8. Agitator
9. Liquid level meter and level controller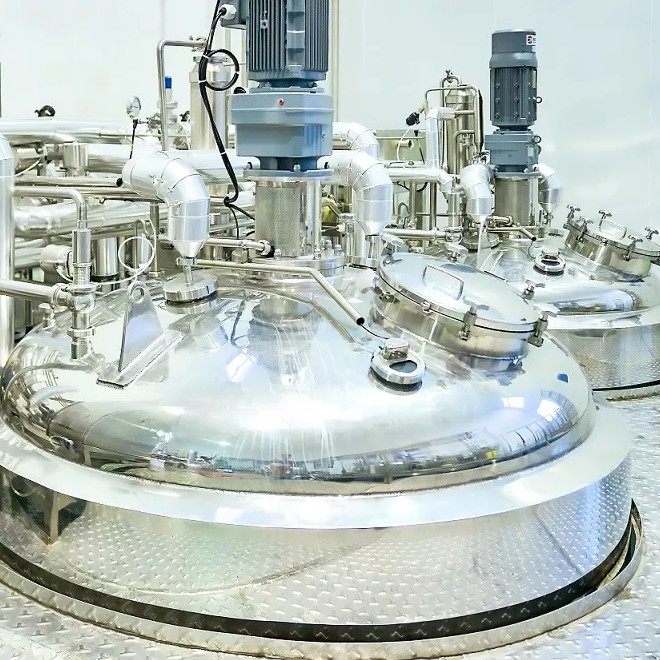 Structure
1. It has an inner layer, outer layer, jacket, and insulation layer. The tank functions that you need to determine the number of tank
layers.
2. Materials are all sanitary stainless steel.
3. Humanized structure design and easy to operate.
4. Transition area of interior wall on tank adopts arc for transition to ensure no dead corner of sanitation.
5. Mixing way is based on customer products.
6. Agitation speed is different based on different products.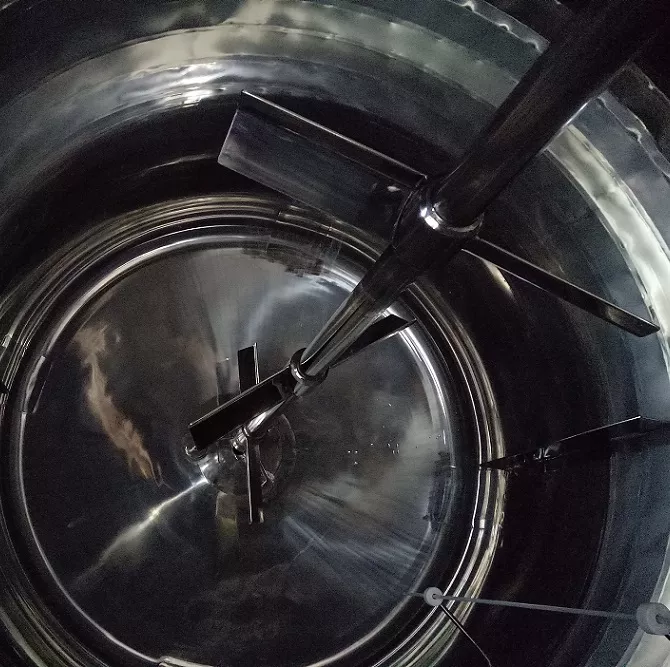 Notes:
1. The technical parameters of the 1000l Fermentation Tank are for reference (in kind prevail); any special requirement, please put forward.
2. Process parameters that need to be provided: volume, the nature of the material, working pressure, temperature, specific requirements, etc.
3. The jacket working pressure≤ 0.09Mpa, also can be made according to customers' requirements.
With our fully-experienced research and development team, we can solve any technical problems concerning your production and meet all your whole-line and machinery demands. We're ready for your inquiry and warmly welcome you're contacting us.
Send Inquiry Our expert salesman will get back to you within 24hours!!!