stainless steel reaction kettle
High pressure stainless steel reaction kettle It is widely applied in beverage, food, dairy, pharmaceutical, chemical and process industries
Product description
Video
Description
Operation Principle
The reaction kettle is usually called a reaction pot or a reaction pot, the heating principle is to put the reaction kettle into the boiler steam, the steam heat into the kettle, so that the heat of the material in the reactor steam heating reaction kettle, steam as heat source heat exchange. There are three kinds of steam heat exchange mode: jacket heat, coil heat, half coil heat exchanger. At present, the most popular advanced reaction kettle heat transfer technology is the technology of semi disc steam heat transfer, which overcomes the shortcomings of the traditional heat exchange technology, such as low thermal efficiency, large diameter of the kettle body, and reduce the thickness of the reaction kettle, save manufacturing costs
Reactor is mainly used for the production chains such as hydrolysis,crystallization,distillation, evaporation and storage in the industries of medicine, chemical industry,food and light industry etc. SS reactor is made of SS304 and SS316 etc.stainless steel material.The mixers are divided into anchor type,frame type,oar type and turbo type etc.The rotation mechanism can adopt cycloid pin gear reducer and stepless speed reducer.The sealing mechanism can adopt mechanical sealing.The heating and cooling can adopt jacket, semi-tube and coil structure etc.structures.The heating methods are steam,electrical heating and heat guiding oil to satisfy the technology requirements under different work environment such as anti-acid,anti-high-temperature,anti-abrasion and anti-corrosion.The design and manufacturing can be carried out according to the technology requirements of customers


Product characteristics
1. Heating need for external, such as boiler and cooling device or other
2. And the material contact at the pot body and parts are made of oCr18Ni9 or 1Cr18Ni9Ti stainless steel plate
3. With less investment, fast operation, high efficiency
4. With heating, high temperature resistance, corrosion resistance, health, no pollution
5. The heat transfer effect is better than enamel reaction kettle, heating and cooling rate is rapid
6. The steam valve and the cooling valve can not start at the same time, the steam pipe is not allowed to hammer and collision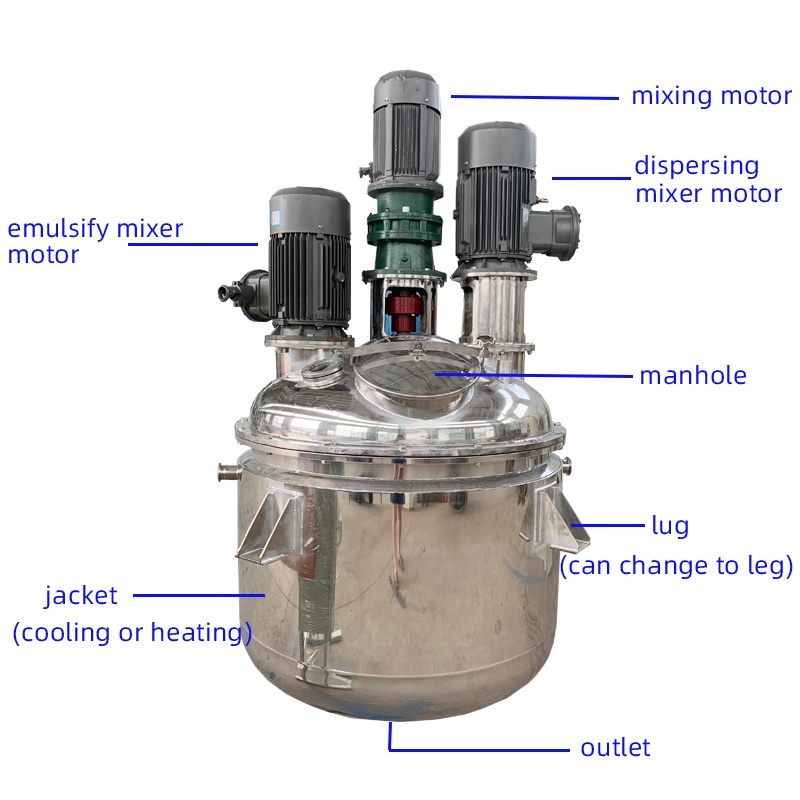 Specifications :
1. Material : SS304 / 316(L)
2. Finish:Mirror or Matt Polish; Ra<0.4um
3. Fully conforms to GMP requirements

4. According to technological requirement, the tank can heat and cool materials. The heating way including steam heating and electric heating.

5. Various forms of blending vanes are suitable for production of different types of products.

6. Easy to discharge, bottom direct discharge or by transfer pump.

It is widely applied in beverage, food, dairy, pharmaceutical, chemical and process industries.Our high speed mixing tank can make
according to customer's requirement for the structure ,single-layer ,double-layer(jacket) and three-layer(insulation layer) or
make limpet coil(inside or external ) to heating and cold
Send Inquiry Our expert salesman will get back to you within 24hours!!!