Stainless Steel Centrifugal Pump
The sanitary centrifugal pump is also known as centrifugal beverage pump, milk pump, stainless steel beverage pump, which is suitable for conveying milk and other similar colloid liquid food use
Product description
Video
Description
Electric motor drives the impeller to rotate, so that the liquid centrifugal force, due to centrifugal force, the liquid is thrown
into the side of the pump, or into the next level impeller, so that the impeller inlet pressure is reduced, and the role of
pressure in the suction liquid pressure difference, pressure difference between the liquid suction pump, the centrifugal pump does not stop the rotation, the liquid flowing into the suction or discharge.
Applicable to the fields of food, dairy, beverage, pharmacy, cosmetic etc industry.

1. Chemical Industry: Fat, Dissolvent, Resin, Paint, Pigment, Oil Agent etc.
2. Food Industry: Yogurt, Ice Cream, Cheese, Soft Drink, Fruit Jelly, Ketchup, Oil, Syrup, Chocolate etc.
3. Daily Chemicals: Facial Foam, Hair Gel, Hair Dyes, Toothpaste, Shampoo, Shoe Polish etc.
4. Pharmacy: Nutrition Liquid, Chinese Traditional Patent Medicine, Biological Products etc
Product Features
1) Material:SUS304/ SUS 316L
2) Flow rate: 1 - 40T/h

3) Pump head: 12 - 40 meter

4) Motor: Domestic/ABB/Siemens

5) Power: 0.55-18.5kw

6) Voltage: 220V/380V/415V/440V, can be customized

7) Connection type: Clamp, Union, Flange

8) Inlet size: 32-102mm, can be customized

9) Outlet size: 25-89mm, can be customized

10) Max. Inlet pressure: 0.3Mpa

11) Temperature range: -10 °C to +140 °C (EPDM)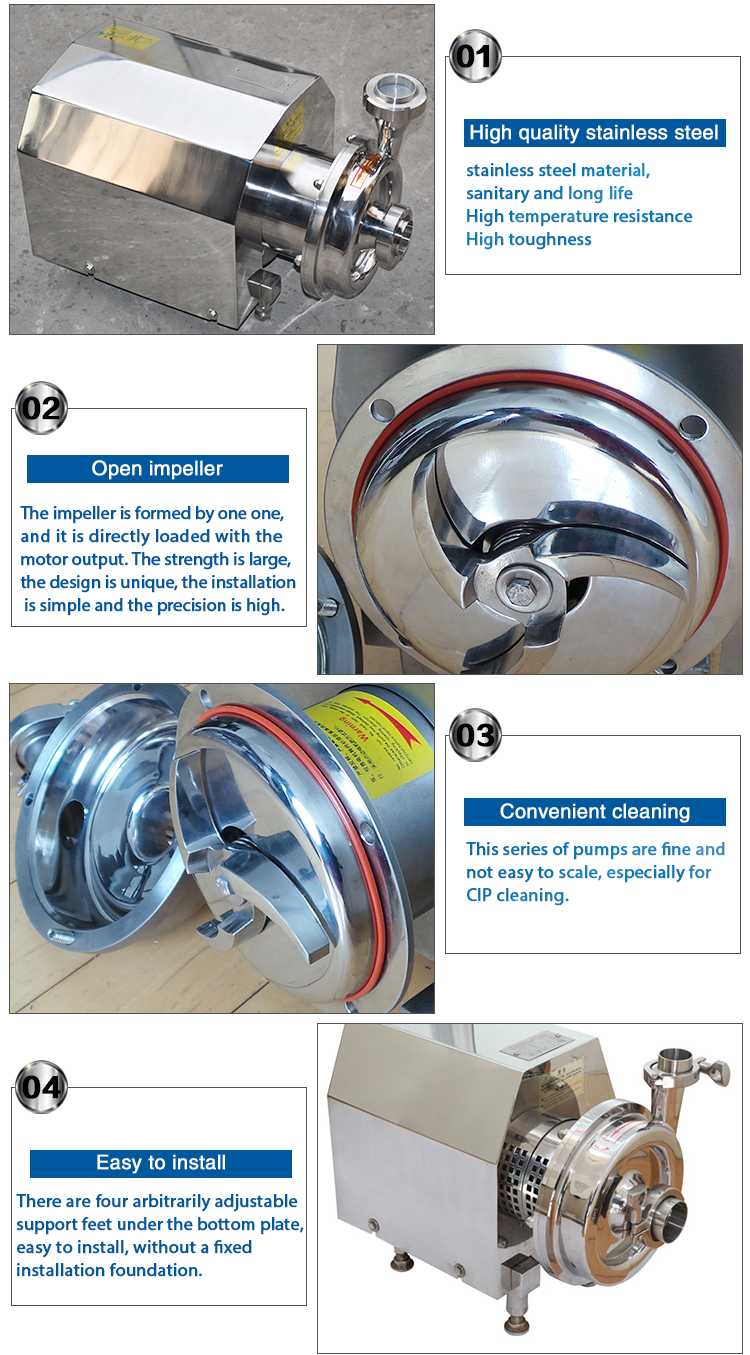 Send Inquiry Our expert salesman will get back to you within 24hours!!!