Ace rotary lobe pump for sale
Food Grade Sanitary Stainless Steel Honey Chocolate Shampoo High Viscosity Rotary Lobe Pump For sale
Product description
Video
Description
This sanitary lobe pump is ideal for handling all types of fluids, whether low or high viscosity, as well as filtering and filling applications. Products containing fragile solids such as curd can be pumped without damage thanks to the specially designed lobes.
How does a lobe pump work?
There are 2 lobes inside the pump casing that rotate in opposite directions without touching each other. As the lobes rotate past the suction port of the pump casing, the volume between the lobes increases, creating a vacuum which draws liquid into the pump casing.
As the vanes rotate towards the discharge port, pressure builds up as the volume between the vanes decreases.

This causes the liquid in the pump casing to flow out of the discharge port, as shown in the diagram.
Advantages of using a lobe pump
The lobe pumps supplied by Ace are fully HEDGE compliant and are manufactured from stainless steel to ensure the pumps are hygienic.

Lobe pumps can be installed horizontally or vertically in pipework, demonstrating their versatility. When installed vertically in the pipework, the pump can be self draining, which is particularly useful alongside the SIP & CIP feature of a lobe pump.

The mechanical seal and lobes of the pump can be completely removed from the front of the pump casing, making maintenance of a lobe pump easier.

Lobe Pumps have an accurate flow control range, can be fitted with a variety of connection types, heating or cooling jackets, integral air or spring-loaded safety valves and the option of Bi-Wing Lobe or Quarto Lobe design.
These variations can all be fitted depending on the application you want to use a lobe pump for, let us know what you need and we'll specify the pump for you.
How to maintain a Lobe Pump Checking your Lobe Pump regularly will prevent unnecessary downtime and reduce breakdown costs.
Things to check
Does the pump make excessive noise?

This may indicate that the lobes are rubbing against the pump casing, or that the pump bearings or gears are worn.

If the oil level has dropped, check the pump for oil leaks.

The suction and discharge pressures of the pump, ensure they are at standard system levels.

If your lobe pump is fitted with a heating or cooling jacket, check that the temperature is correct.The pressure and flow of the flushing system, if your pump has one.

When to change the oil in your lobe pump

After 300 hours of operation since the pump was first put into service, the oil should be changed.

After the initial oil change, your pump should be changed every 3000 hours of operation or every 3 months, whichever comes first.

If you don't use your Lobe Pump regularly, the oil should be changed every 2000 hours or at least every 3 months.
Seal options
Mechanical seals: SiC/SiC or TuC/SiC.In addition to the single mechanical seal, other seal types are available:

Flushed mechanical seal (quench), double mechanical seal, lip seal (FPM or PTFE), gland packing, O-ring.Seals: FPM or PTFE.Pressure relief valve on front cover or external bypass.Double lobe.Heating chamber.

Insulation box.

Vertical support.

Rectangular nozzle.

Various types of drive and protection (gear drive with optional frequency converter, pulley/mechanical drive speed selector).

Trolley and/or control panel.

Connections: Clamp, SMS, RJT, etc.
PLEASE CONTACT US DIRECTLY IF YOU HAVE SPECIAL REQUIREMENTS!
Main parameter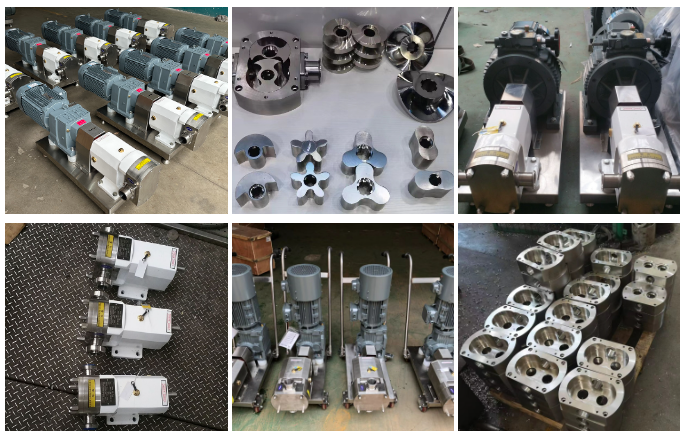 Lobe pump of applications:
Dairy: yogurt, cream, ice cream, cheese and whey.
Beverages: beer, wort, yeast, soft drinks, fruit concentrates, fruit drinks.
Food: Tomato sauce, vegetable paste, spices, sweeteners, yeast paste, salad, meat emulsion, cooking oil.
Confectionery: honey, syrup, cream filling, fruit purée, fruit filling, pudding, jam, jelly, chocolate.
Cosmetics: creams and lotions, hair gels, hair dyes, essential oils.
Medicines: Pills, extracts, emulsions, pastes.
Chemicals: fats, solvents, resins and polymers, dyes...
Welcome to become our dealer
Send Inquiry Our expert salesman will get back to you within 24hours!!!