Mixing tank with heater
500 liter stainless steel chocolate melting mixing tank heating and cooling mixing tank with heater
Product description
Video
Description
Stainless steel mixing tank is widely used in food,beverage,dairy,cosmetic,chemical and pharmaceutical industry.
We can provide good quality of stainless steel tanks with heating and mixing function according to your specific requirements.
1.Capacity: 50 Liter -5000 Liter
2.Structure: single layer / double layer / triple layer
3.Heating Mode: electricity heating/steam heating/gas heating
4.Agitator Type: paddle type/side scrape type/high speed mixer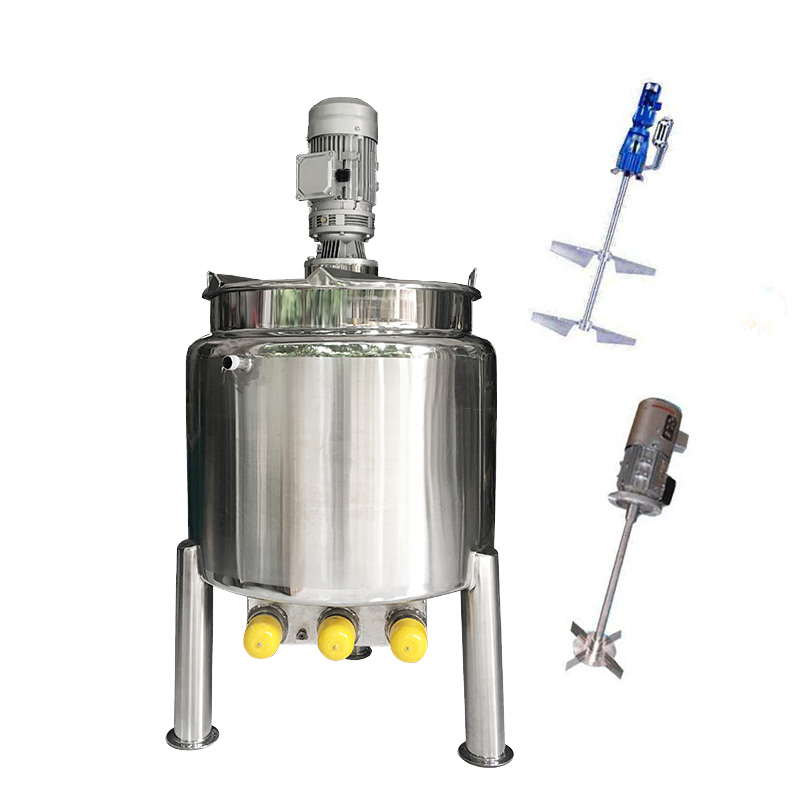 Features:
1. System adopts one-way or two-way wall scraping agitation and frequency conversion speed regulation, suitable for different working environment
2. It can heat or cool materials according to process requirements, heating mode can choose steam or electric heating according to customer requirements;
3. There are a variety of agitator forms, suitable for the production of different types of products;
4. Material is SUS304 or 316L stainless steel, the tank and pipe are mirror polishing;
5. Optional dispersion head or emulsion head to accelerate the dissolution and emulsification of materials; Set high-speed shear, dispersion, homogenization, mixing, crushing in one. The emulsified tank also has the functions of heating, cooling, heat preservation and stirring. The tank is designed with material inlet and outlet, which can provide all the conditions of emulsification process
6.Stainless steel electronic control box can fully monitor the operation of the equipment, can display temperature, stirring speed and other data;
Applicable Products.
1. Cosmetics industry: skin care cream, shaving cream, shampoo, toothpaste, cold cream, cold sun cream, facial cleanser, nutrition dense, detergent, shampoo, hair cream, conditioner, serum, moisturizing cream, Hand cream and so on.
2. Daily chemical industry:Laundry liquid production, hand sanitizer, toilet net, car glass water.
3. Pharmaceutical Industry:Latex, emulsion, ointment (ointment), oral syrup, oral liquid and the like.
4. Food Industry:Sauces, cheese, nutritional liquid, baby food, chocolate, sugar and so on.
5. Chemical Industry:Latex, Sauce, saponified products, paints, coatings, resins, adhesives, lubricants and so on.
Send Inquiry Our expert salesman will get back to you within 24hours!!!