high shear mixer for emulsification
sanitary high shear mixer emulsification sausage chocolate fixed type emulsifying stirrer
Product description
Video
Description
The mixer works by the high-speed rotor gear and the stator gear to fully and rapidly emulsify, homogenize and disperse the mixture in the vessel. It is widely used in food, dairy, beverage, bio-pharmaceutical, fine chemicals, pigments and other industries to improve production efficiency and material quality. It is especially effective for the use of additives such as CMC, gums, and powders that are difficult to dissolve.
How the Batch High Shear Mixer Works
The Batch High Shear Mixer design consists of a single stage four-blade rotor that turns at high speed within a stationary stator. As the rotating blades pass each opening in the stator, they mechanically shear particles and droplets, and expel material at high velocity into the surrounding mix, creating intense hydraulic shear. As fast as material is expelled, more is drawn into the bottom of the rotor/stator generator, which promotes continuous flow and fast mixing.

You can choose working head and installation type,you can also appoint motor brand,voltage,phase,ss304 or ss316 material and so on.Our professional team will help you choose suitable model.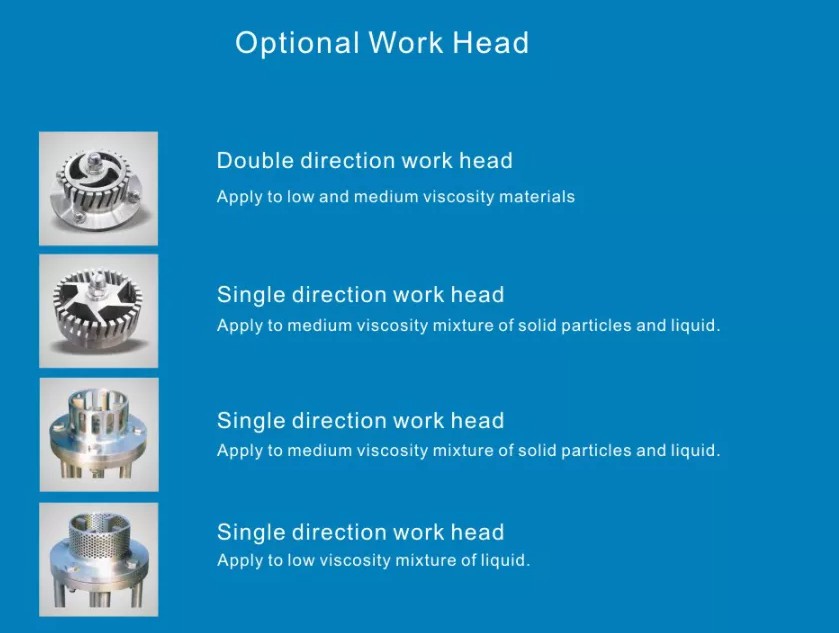 high shear mixer main use: Mix:syrup,shampoo,clean solution,juice concentrate,yogurt,desserts,mix milk products,printing ink. emulsification:medicine lotion,ointment,face mask,emulsion flavor,oil-water emulsion,emulsion asphalt,resin emulsion,wax emulsion and pesticide. Homogeneous:medicine lotion,ointment,face mask,tissue homogenate,dairy products homogeneous,fruit juice,printing ink and jam.
Send Inquiry Our expert salesman will get back to you within 24hours!!!