Stainless Steel Powder Storage Tank
moveable powder Storage Tank The special stainless steel can be recycled with environment friendly and designed for the storage of materials such as food, chemicals, pharmaceutical and other industries
Product description
Video
Description
Product structure characteristics:
1. Made of high quality stainless steel 304 or 316L.
2. All corners are R-angle arc transition, no dead angle; powder is easy to flow without residue, easy to clean, and beautiful appearance.
3. Advanced sheet metal process and weld seam welding technology. The inner surface is mirror-polished (roughness Ra ≤ 0.2 ~ 0.28μm), and the outer surface is matte finish.
4. Stamped-clamp type bucket cover, quick lock structure, easy to open. Equipped with medical grade silicone sealing ring, good sealing performance.
5. The bottom of the cone is equipped with a special large-diameter quick-loading butterfly valve, which is light and easy to open. With pharmaceutical grade silicone sealing ring, it can be universally equipped, easy to disassemble and easy to clean. The operating handle is equipped with automatic positioning and locking function, which is sensitive and accurate, and prevents misoperation.
6. Four PU moving casters (including 2 universal belt brakes) are light and convenient mobile, well protecting the floor from damage.
7. The bunker body has sufficient strength and will not be deformed.
8. Mobile mode: hydraulic truck, forklift, manual.
9. Flow-assisted vibrator: electric or pneumatic, optional; it can break the powder arching, blockage, prevent the powder from sticking to the bunker, help the powder flow, and maintain the continuity of the production process.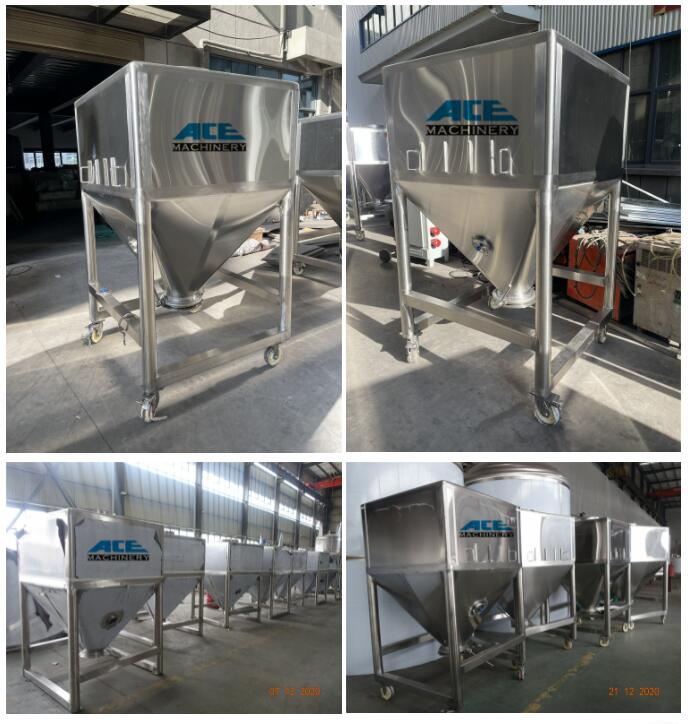 Send Inquiry Our expert salesman will get back to you within 24hours!!!