Stainless Steel heated mixing blending vessel
Food Beverage Liquid Pharmaceutical Pilot Plant mixing blending vessel agitator mixing vessel
Product description
Description
Features
◭stainless steel mixing vessel could be used in food, beverage, pharmacy, chemical industry,wine and alcohol etc industries.
◭The vessel body is welded by imported three-layer stainless steel plate. The tank body and the pipes adopt mirror polishing or matte finish , which fully conforms to GMP requirements.
◭There are various agitator options of stainless steel mixing tank: impeller type, Anchor type, Turbine type, High shear mixer,magnetic mixer. The mixing tank could be made with or without jacket. The scraper type agitator mixing adopts the frequency converter for speed adjustment , so that high quality products of different processes according to customer requirements.
◭The diversified high-speed homogenizer can powerfully mix solid and liquid raw materials and can rapidly dissolve many indissoluble materials. during the liquid detergent production process so as to save energy consumpion and shorten production period. High Shear Homoegnizer adopts German Technology, 0~2900 rpm variable speed.
◭According to customer requirement , the vessel can heat and cool materials. The heating way including steam heating and electric heating. Easy to discharge , bottom direct discharge or by transfer pump.

The inner surface of the vessel can be mirror polished and the roughness can meet as high as RA <=0.8um. The outer surface is polished as follows: the cover and the bottom will be mirror polished and the remaining part will be mat polished. All the polish meet international standard.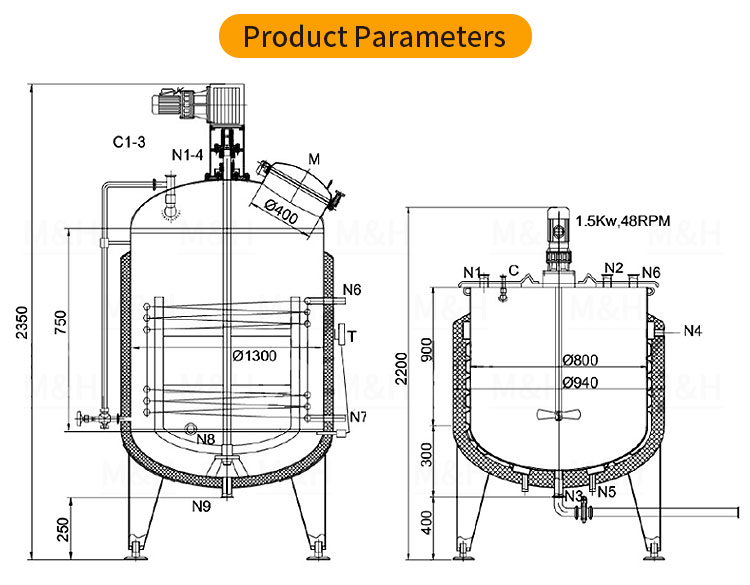 Structure : vessel body, vessel cover, stirring structure, homogenization mechanism, electric control device and frame platform.
Appearance: Upper opening cover and lower inclined bottom, upper opening cover and lower conical head, upper and lower conical head, upper and lower elliptical head.
Form: Ordinary single-layer vessel (single-layer stainless steel wall), heating single-layer vessel (built-in coil steam heating),
heating double-layer vessel (double-layer vessel, jacket heat transfer oil, heating pipe) ), heating the three-layer tank (three-layer vessel, one layer of heating jacket heat transfer oil, two layers of insulation layer polyurethane/insulation cotton)
Volume: 100L-10000L and other specifications, and can also be designed and manufactured according to the actual needs of customers.
Send Inquiry Our expert salesman will get back to you within 24hours!!!