Viscous Liquid Transfer Pump
Food Grade Cam Rotor Pump Stainless Steel High Viscous Liquid Transfer Pump Sanitary Lobe Pump
Product description
Video
Description
Viscous material transfer pumps, also known as rotor pumps, double lobe pumps, single lobe pumps, are widely used in beverage, food, dairy, pharmaceutical, chemical and processing industries to transport viscous liquid materials.
A rotary lobe pump is a positive displacement pump with two rotors in the pump head. The two rotors are fixed to the two shafts and rotate synchronously in the opposite direction. The rotation creates a vacuum volume on the inlet side. The liquid is drawn into the pump head and travels in the chamber between the rotor and the pump head housing and is extruded on the outlet side. The pump has a wide range of viscosity suitability. It has the characteristics of low speed, high efficiency, stable operation, strong self-priming ability, convenient pump operation and preheating. The pump features a multi-style seal for reliable performance and long life. It is an ideal conveying equipment for food, pharmaceutical, chemical, oil, daily life and so on.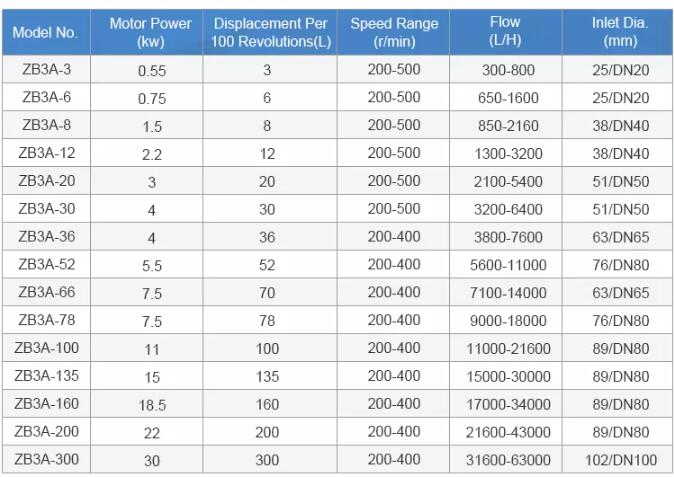 Note
The flow range in the table refers to the data measured when the medium is "water".It adopts stepless variable speed motor or frequency converter to adjust the speed range from 200 to 900 rpm. When conveying high viscosity concentrated liquid, the motor power must be increased. The data in this form is subject to change without prior notice. The correct parameters are subject to the actual product provided.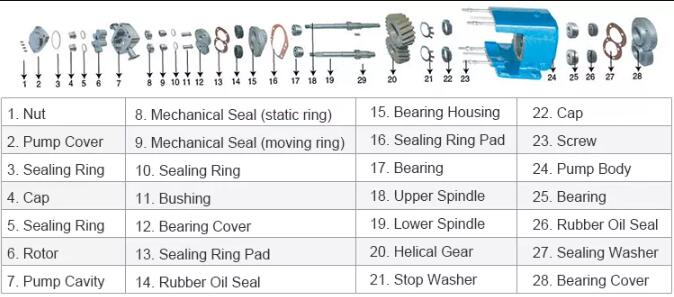 ransmission Section Selection:
● Motor + Fixed Ratio Reducer: this method of transmission is simple, the rotor speed is constant, which also determines the flow rate is not adjustable.
● Motor + Mechanical Friction Type Stepless Transmission: this type of transmission is manually adjusted to achieve variable speed. It is characterized by safe and reliable, large torque, flow adjustable stepless. Disadvantages are non-automatic adjustment and more troublesome. The speed must be adjusted in the working process, and it must not be adjusted under stop state. Please refer to the manufacturer's instructions for use and maintenance specifications.
● Converter Motor + Converter: the speed can be automatically adjusted in this way, which means that the flow can be adjusted steplessly. The advantage is that the degree of automation is high and the low speed torque is large; the disadvantage is that the price of the inverter is relatively high. Please refer to the manufacturer's instruction manual for maintenance specifications.
Send Inquiry Our expert salesman will get back to you within 24hours!!!